Press release
World Rhino Day message from Environment Minister Richard Benyon
Governments and conservation groups need to work more closely together to help combat the illegal trade in rhino horn, Environment Minister Richard Benyon said today.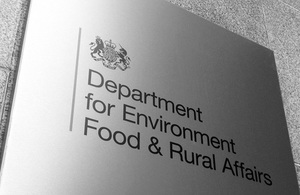 Speaking on World Rhino Day, at a time when three out of the five species of rhinoceros are critically endangered, Mr Benyon said that sharing intelligence on poachers and rhino horn traders and discussing tactics on policing were important elements in the fight to protect rhinos. He added that public understanding about the illegal trade in rhino horn needed to be much higher than it is at the moment.
"When you consider the horrifying news that more than 300 rhinos were killed by poachers in South Africa last year, it shows you how much work still needs to be done," Mr Benyon said.
"World Rhino Day gives us all an opportunity to step back and consider what we can do to protect rhinos, and I'm proud to say that the UK is leading the way internationally to make sure there is global action on this issue. Future generations wouldn't forgive us if we allowed these magnificent animals to be wiped out by the illegal and barbaric trade in rhino horn.
"One of the saddest aspects of all of this is that rhinos are being slaughtered because of a myth. People need to realize that there are absolutely no medical benefits to be gained from rhino horn - it's made of the same stuff as fingernails and toenails - and the more we can get this message out and reduce the demand for rhino products the nearer we will be to getting rhinos off the endangered species list."
Last month Britain united the international community against the illegal trade in rhino horn, setting up and leading a new CITES (Convention for International Trade in Endangered Species) steering group to provide evidence against rhino horn as a medicine and bringing in further enforcement measures to prevent and control illegal trade.
Published 22 September 2011