World news story
World Refugee Day : UKaid in Somalia working with partners and providing support to refugees
How UKaid in Somalia is working with partners and providing support to returning refugees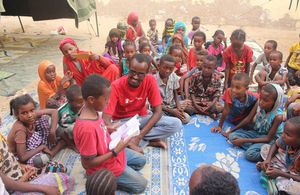 20 June is World Refugee Day, a day dedicated to highlight the plight of those forced to flee their countries of origin and seek refuge. Many find themselves in camps and live in difficult circumstances. UKaid provides assistance to refugees both in countries of asylum and helps people return home when possible.
Twenty-two-year-old Ali Abdi Madar was born and raised in Kenya's sprawling Dadaab refugee camp. But when the opportunity arose to go to Somalia, the home country of his parents, he decided to take it. Leaving his mother and brother behind in Kenya, Ali arrived in the southern Somalia port city of Kismayo in February, and says he now wants to spend the rest of his life here. Though glad to be in Somalia, Ali acknowledges that building a life in a country he does not know, which is itself trying to rebuild after decades of conflict, is not easy. "I have finished my secondary school [in Dadaab], but I still cannot find a job," he tells. Ali has returned in the wake of an agreement signed in November 2013 between UNHCR and the governments of Kenya and Somalia, to govern the safe, dignified and voluntary return of refugees from Kenya to Somalia. UNHCR launched a Pilot Phase in December 2014 to provide assistance to return and reintegrate in selected areas of Somalia. Excerpt from UNHCR
Many Somali refugees reside in Kenya and Ethiopia and have done so for two and a half decades. The Tripartite Agreement, signed by the Government of Kenya, the Federal Government of Somalia and UNHCR in November 2013, governs voluntary repatriation to Somalia. UNHCR's Pilot Phase offering assistance to Somali refugees living in Kenya who wish to return to Somalia has helped 2,232 persons (51% female and 49% male) to pursue durable solutions to their displacement. The main areas of return during the Pilot Phase are in Kismayo, Baidoa and Luuq with new areas to be included for future returns.
The conflict, chronic poverty and food insecurity in Somalia continues to drive people from their homes, creating Internally Displaced People (IDPs) and refugees. UNHCR has registered over 730,000 Somali refugees in the Horn and East Africa region, most of whom are women and children.
Somalia also provides refugees with a sanctuary, most recently for those fleeing from Yemen. There were 257,648 registered Somali refugees in Yemen prior to the crises that are now in need of Humanitarian support. To date over 14,000 people have returned to Somalia from Yemen putting pressure on local resources. Current assumptions are that as many as 43,000 Somalis may return to Somalia. This number may be revised depending on how the situation in Yemen develops.
UKaid interventions through partners:
DFID in Somalia is committed to providing better living conditions and livelihood opportunities to Somali refugees and returnees. With support from UK Aid, DFID provided a mixed package of support to refugees and IDPs. This includes provision of assistance in refugee camps. When refugees are willing to return home (return must always be voluntary) they are provided with livelihood start up grants, Core relief Items, food rations and Mine Risk Education.
The UNHCR and the Regional Durable Solutions secretariat have been leading the call to link the short term humanitarian support with longer term developmental approaches in order to provide durable solutions for the returnee populations.
To date, with support from UKaid, DFID partners have conducted ten psychosocial sessions with children to help them settle easily, provided milk and high energy biscuits to 560 children (330 male and 260 female), provided emergency health services to 78 patients who were critically sick upon arrival in Bosasso Port and were admitted in hospitals and conducted distribution of hygiene kits to 299 families and non-food items to 358 returnee families.
DFID is also exploring with partners a pilot project that will link returnees with resilience projects in some areas of return. The project aims at developing livelihoods opportunities for the returnees and reducing the number of recycled refugees once the short term humanitarian support stops.
Our partners are also running humanitarian programmes in Somalia in response to the Yemen situation. Through the UKaid funded consortium partners are targeting to reach:
| | | | | |
| --- | --- | --- | --- | --- |
| Support | No. of Male beneficiaries | No of female beneficiaries | Total Targeted | No of Households |
| Cash Transfers (Water Purchase) | 900 | 900 | 1,800 | 300 |
| Provision of Water (Water trucking and provision of tanks) | 5,346 | 7,156 | 12,502 | 2,084 |
| Non Food items | 1,500 | 1,500 | 3,000 | 500 |
| Nutrition, hygiene and environmental awareness | 3,096 | 6,192 | 9,288 | 1,548 |
| Emergency food security and livelihoods(cash transfers) | 3,996 | 3,996 | 7,992 | 1,332 |
| Distribution of Hygiene Kits | 1,500 | 1,500 | 3,000 | 500 |
| Health (emergency and lifesaving medical services) | 400 | 600 | 1,000 | 167 |
| Transport to areas of origin | 2,400 | 2,500 | 4,900 | 700 |
For more information on refugee programming please visit the UNHCR Somalia website and the UNHCR information sharing portal. For Information about UK and Somalia, visit the website
Published 20 June 2015