News story
World Red Cross and Red Crescent Day
The Foreign Secretary marks World Red Cross and Red Crescent Day by commending 'tireless dedication and bravery' of ICRC staff and volunteers.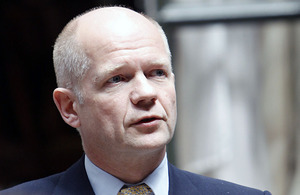 The Foreign Secretary William Hague said:
This year marks 150 years of humanitarian action by the International Red Cross and Red Crescent Movement. Across the world their staff and volunteers are saving lives and helping the most vulnerable communities. They are working in the most difficult and dangerous environments delivering assistance in times of conflict and natural disaster. And in those areas of greatest insecurity, where other organisations and states often cannot reach, they face the daily threat of violence in order to carry out their humanitarian mission.

As events around the world all too regularly remind us this work remains as vital as it has ever been. Today is an important opportunity to recognise their outstanding contribution, including that of the British Red Cross here in the UK. I commend their tireless dedication and bravery and I would remind those who bear arms in conflict, on all sides, to respect and protect the neutrality of those who work under the Red Cross, Red Crescent and Red Crystal symbols.
The International Committee of the Red Cross (ICRC) was founded 150 years ago in Geneva, following publication by Henri Dunant of his eye-witness account of the horrors of the battle of Solferino. It originally provided medical care and assistance to wounded soldiers regardless of their nationality. In 1864 the first Geneva Convention was adopted; the ICRC act as the custodians of International Humanitarian Law, as enshrined principally in the four Geneva Conventions of 1949 and their additional protocols.
Independence and neutrality remains the guiding principle for the ICRC and the International Red Cross and Red Crescent Movement as a whole. They operate across the world providing humanitarian assistance and protection in conflicts and other emergency situations. More information about their work is available on the ICRC website and the British Red Cross website.
Published 8 May 2013