Wool fans flock to Savile Row
The field day is part of a wider five-year Campaign for Wool to promote the benefits of wool.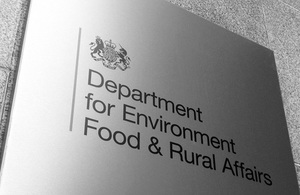 Agriculture Minister Jim Paice will join supporters of Wool Week in Savile Row as it is transformed into a sheep field with Wiltshire Exmoor Horns and Bowmont sheep from Devon today.
'Savile Row Field Day' will showcase British wool in support of the Campaign for Wool, which is a coalition of industry groups raising awareness about the benefits of wool.
Mr Paice said:
"Wool is a high quality, sustainable and durable material with countless uses, some of which visitors will see here in Savile Row today.
"This event is a great opportunity to remind people about the benefits of wool and allow Londoners to see some iconic sheep on show from the West Country."
Mr Paice joins organisers of Savile Row Field Day - the Savile Row Bespoke Association, Woolmark International, West Country woollen mill Fox Brothers and Dormeuil.
The field day is part of a wider five-year Campaign for Wool launched by HRH The Prince of Wales earlier this year to promote the benefits of wool.
Wool has many versatile uses in clothing, insulation, bedding, upholstery, construction materials, compost and carpets.  UK sheep produce some of the best wool for carpets and rugs and 70 per cent of the wool produced here is used in this way, such as making the world famous Axminster Carpets.
The UK flock is the largest in the EU with 15 million breeding sheep and 52,000 producers. There are approximately 32 million sheep and lambs in the UK from 60 different breeds.  The 35,000 - 40,000 tonnes of wool produced each year provide an additional income for farmers producing meat.
Wool production has a long history in the UK. British wool was cherished during Roman times and the industry was one of England's greatest national assets during the 12th century. British wool now makes up three per cent of world wool production, with Australia, New Zealand and China making up the bulk of production.
Notes
Further information about the Campaign for Wool can be found here: www.campaignforwool.org.
A registered vet will be on site caring for the animals during the day and the animals will have constant access to clear water and food.
The sheep starring on the day come from two farms in the West Country.  One flock is from Harry Parker's award-winning Exmoor Horn sheep farm in Wiltshire, and the other flock is from Lesley Prior's Bowmont sheep farm in Devon.
Published 11 October 2010