News story
Women's Engagement Newsletter introduction from Jo Swinson - Spring 2013
Read the Minister for Women and Equalities' spring edition of the Women's Engagement Newsletter.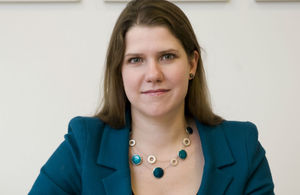 As Minister in the Business department as well as for Women and Equalities, I believe our economy is strongest when everyone has the chance to make their full contribution. In the current economic climate, that means we must help parents to balance working life with family life, and tackle the barriers that restrict participation in the workplace.
In January 2013 government published its Mid-Term Review, which gave an update on progress in implementing the programme for government. It also outlined our work to make society more family friendly and to give children the best start in life.
We know that the costs of childcare are a major concern for many parents. Good quality, affordable childcare is vital to enable parents to enter the workplace and to work sufficient hours to support their families.
We have put in place a number of measures to help including: extending childcare for those who work less than 16 hours a week; increasing the entitlement to free education and care for 3- and 4-year-olds to 15 hours a week and extending this entitlement to free education and care for 260,000 of the most disadvantaged 2-year-olds.
We have also set up a £2 million fund to provide grants to assist those wishing to set up childcare businesses. This could create up to 6,000 new child-minders and nurseries in the UK. We are determined to do even more, which is why we have launched a commission on childcare to look at how to make it more affordable for working families.
From 2014, we will extend the right to request flexible working to all employees. And, by 2015, we will legislate to provide a new system of shared parental leave that will allow parents to choose how they will share caring responsibilities in the months after birth.
This is a really important step, enshrining our belief that there should be no automatic assumption that mums stay home with the baby while dads go out to work.
For too long, women have been undervalued as workers while men have been undervalued as parents; to everyone's detriment. Our plans for shared parental leave will help to kick-start the cultural change we need to put that right.
Further information
Published 22 February 2013