Women's Business Council publishes 'One Year On' report
Women's equality in better place than ever before.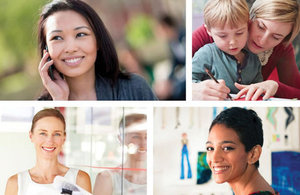 The Women's Business Council (WBC) published its 'One Year On' report today, calling for a fundamental change in mind-set from business leaders, to help remove the final barriers to women's equality.
In June 2013, the WBC published a number of recommendations for business and government to improve opportunities for women. Since then things have been moving in the right direction. There are more women in employment than ever before, more women running their own businesses, and 4,000 more female STEM (Science, Technology, Engineering and Maths) subject graduates than in 2013.
But despite this progress, the WBC is convinced that male leaders can do more. The members have spoken to over 500 companies and individuals over the last year, and held discussions with male Chief Executives. The report concludes that male leaders are important, as visible agents of change, to ensure women are not held back in reaching their full potential in the workplace.
Chair of the Women's Business Council Ruby McGregor-Smith CBE, said:
We are hugely encouraged by the progress that has been made over the last year. More women than ever are in employment, the gender pay gap has closed to nearly zero for women under 40 working full time and there are more women sitting on boards than at any time.

This is not the time to be complacent. We must address cultural attitudes in the workplace, often deeply ingrained, if we are to see true gender parity. I'm confident that with our esteemed new members joining the Council this year, and with such a dedicated board, we can make even greater progress in 2014/15 towards our fundamental goals: broadening career aspirations among girls, and maximising women's contribution to future economic growth.
Ruby McGregor-Smith CBE discusses the report
Watch more video interviews with WBC members and stakeholders
Women's minister, Nicky Morgan, said:
The government has achieved a lot in the last year, including extending the right to request flexible working to all employees, introducing a system of shared parental leave, and announcing our support for parents of nearly 2 million children with the Tax Free Childcare scheme. This will make a huge difference to women, giving them the support they need to get back into work.

I want all businesses and employers to play their part by driving forward the cultural change needed to ensure women can achieve their full potential. We will continue to work with the Women's Business Council, to ensure women are supported in every stage of their career.
Further information
Published 3 June 2014