Press release
Women on boards - Cable launches enhanced code for executive recruiters
Vince Cable welcomes launch of an Enhanced Code of Conduct for executive search firms to support more women appointments to FTSE 350 boards.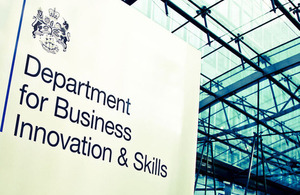 Business Secretary Vince Cable has today (1 July 2014) welcomed the launch of an Enhanced Code of Conduct for executive search firms to support more women appointments to FTSE 350 boards.
Over 70 firms signed up to the original voluntary code of conduct launched in 2011. In response to the independent Sweeney review in February 2014, the search industry has developed a new enhanced code to recognise those firms driving progress and embedding higher standards.
The new Enhanced Voluntary Code of Conduct for Executive Search Firms gives recognition to those firms who have been most successful in the recruitment of women to FSTE 350 boards. It builds on the terms of the standard voluntary code and will also recognise the outstanding efforts of search firms working to build the pipeline of FTSE board directors of the future.
The Enhanced Voluntary Code was drawn up by the search firms themselves working with the Davies Steering Group. It contains 10 new provisions, from launching initiatives to support aspiring women to sharing of best practice and running awareness programmes within their own firms.
Under the new provisions, firms will provide evidence to the Davies Steering Group that they have:
supported the appointment of at least 4 women to FTSE 100/250 boards over the last year
achieved a proportion of at least 33% female appointments across all their FTSE 100/250 board work
supported women in achieving their first FTSE 350 board appointment
have fully delivered against more qualitative aspects of the Enhanced Code in their daily practices
The Enhanced Code requires search firms to submit summary data in an agreed format to the independent Davies Steering Group annually, to confirm they meet the requirements for accreditation under the code.
Executive search firms will also be encouraged to visibly signal their commitment to gender diversity, on their websites and in discussion with clients as well as publishing relevant summary data on their track record.
Business Secretary Vince Cable said:
Executive Search firms are crucial to achieving gender diversity in both executive and non-executive roles.

Recruiters can best show their commitment to this work by embracing this new enhanced code.

Now that all FTSE 100 boards have at least 1 woman serving on them, and all key stakeholders have embraced the gender diversity agenda, we are confident that with sustained and continued action, we will meet the target of 25% women on FTSE 100 boards by 2015.

I am looking forward to finding out which firms have passed the higher standard set by industry.
Notes to editors
A copy of the new Enhanced Voluntary Code of Conduct can be accessed at 'Women on boards reports'.
In March 2014, an independent report into the transparency of the executive search agencies' Code of Conduct by Charlotte Sweeney was published. The report can be found at: Women on boards: voluntary code for executive search firms,
The Davies Review in 2011 recommended that the executive search community should draw up a voluntary code of conduct to address gender diversity on corporate boards and best practice for the related search processes. Lord Davies recommended that FTSE 100 boards should aim for a minimum 25% female representation on their boards by 2015.
A copy of Lord Davies's Review of Women on Boards can be found at Women on boards February 2011
A copy of the original, Standard Voluntary Code of Conduct launched in 2011 can be found at 'Voluntary Code of Conduct for Executive Search Firms. The 10 provisions of the Standard Voluntary Code of Conduct set out requirements for:

succession planning
diversity goals
defining briefs
longlists and shortlists
candidate support
supporting candidate selection
induction
embedding best practice
signalling commitment
broadening the candidate pool

On 26th June 2014, the FTSE100 made history as commodity trader and mining company Glencore Xstrata appointed Patrice Merrin as its first female board director. This means that there are no all-male boards remaining in the UK's top companies.
The government's long-term plan is to build a strong, more competitive economy and a fairer society.
Industrial Strategy gives impetus to the plan for growth by providing businesses, investors and the public with clarity about the long-term direction in which the government wants the economy to travel.
The first achievements and future priorities of the industrial strategy have been published and can be found here https://www.gov.uk/government/publications/industrial-strategy-early-successes-and-future-priorities.
Published 1 July 2014