News story
Women in sport
Looking at the impact London 2012 has had on getting women involved in sport.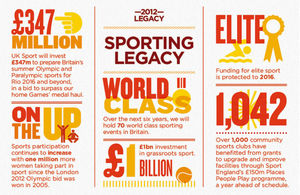 The London 2012 Olympic and Paralympic Games produced outstanding performances from our female athletes and raised the profile of women's sport. The impact was immediate: nearly 626,000 more women are playing regular sport since we won the Games bid. But though nearly 7 million women play sport weekly, 9 million more would like to start playing or to play more sport.
More than £1 billion funding, from us and the National Lottery, will be invested over five years to help more people enjoy sport, and to develop sporting talent. All this funding is expected to ensure that, wherever appropriate, sports attract and retain women, but some initiatives have a particular part to play:
'girls only' satellite clubs will be established to target the 14-25 age group; by 2017, every secondary school in England will have been offered a satellite community sports club on its site
the Us Girls project, part of the £10 million lottery-funded Active Women programme, will work to attract into sport 30,000 young women living in disadvantaged areas
on 14 January 2013 Sport England announced the Women's Place Based Pilot, providing £3 million investment in locality-based sports schemes for women
£1,708,383 has been awarded to the Women's Sport and Fitness Foundation to help sports understand how to attract women, and to work directly with county sports partnerships and the education sector
all of the UK Sport funded elite athletes will offer up time (5 days per year) to provide support and role modelling for youth and community sport
Government also wants to see more coverage of women's sport in the media. Maria Miller, Secretary of State for Culture Media and Sport as well as for Women and Equalities, has written to all the major broadcasters and in January 2013 hosted a roundtable for broadcasters, journalists and women sports leaders to discuss what we can do to ensure that there is more coverage of all our sporting achievements.
Further information
Published 22 February 2013