Press release
Wolverhampton man handed Community Order for attempting to ship waste illegally
On Tuesday 9 December, Emmanuel Yaw Tachie, of Mayfield Road, Wolverhampton pleaded guilty at Wolverhampton Magistrates' Court to waste shipment offences.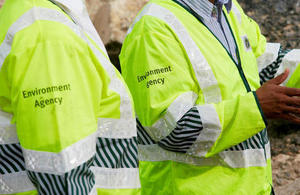 The 27 year old received a Community Order with a requirement to perform 200 hours of unpaid work. He was also ordered to pay a contribution towards costs of £500 and £60 victim surcharge.
The charge was brought by the Environment Agency contrary to Regulation 23 of the Transfrontier Shipment of Waste Regulations 2007.
The defendant operated a waste treatment facility at the Bilston Industrial Estate, Wolverhampton where he repaired and refurbished various types of waste electrical and electronic equipment.
Between May 2013 and September 2013 the defendant was warned for attempting to illegally export electrical waste from the Bilston Industrial Estate to Ghana. Despite this warning, in November 2013 the defendant ordered a 40 foot shipping container and informed the freight company that it was for the purpose of shipping bicycles to Ghana. This container was subsequently stopped and examined at Felixstowe Port where it was found to illegally contain waste electrical equipment. The Waste Shipments Regulation prohibits the shipment of electronic waste to Ghana.
Speaking after the case, an Environment Agency officer in charge of the investigation said:
Illegal exports put people and the environment at risk and undermine legitimate businesses. There is a legitimate export market for working, used electronics. However, it is illegal to export waste for recycling or recovery in developing countries. Electrical waste can contain hazardous materials such as lead, phosphorous and ozone-depleting substances and can pose a serious risk to people's health and the environment.
In mitigation the court took into account that the defendant had pleaded guilty at the first opportunity and that he had co-operated with the investigation.
Published 10 December 2014