Press release
Wiltshire site owner fined for obstructing Environment Agency staff
Preventing officers from investigating if a waste site in Trowbridge was operating illegally ends in prosecution.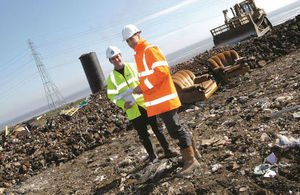 Trying to stop Environment Agency staff from doing their jobs saw a businessman convicted of obstruction.
Bart Critchly-Clark, of Mill Lane, Monkton Combe, Bath, initially allowed environmental officers onto his premises at Riverway in Trowbridge. But after it was explained they were there to investigate claims of an illegal waste site, he became uncooperative. He refused to give his address. He refused to give his date of birth. And to stop officers from taking photographs of the premises, Critchly-Clark closed the entrance shutters.
To operate a business which manages waste, you must have an environmental permit from the Environment Agency. It details what can and cannot be done, to prevent impact on the environment and local community. To enforce this, Environment Agency staff have legal powers of entry and inspection.
In this case, the Environment Agency officers returned the next day, accompanied by police officers, gained access and finished their investigation.
Critchly-Clark pleaded guilty to a charge of intentional obstruction of an environment officer under the Environment Act 1995 and was fined £200 and ordered to pay £330 costs at Swindon Magistrates Court on 31 January.
Environment officer Huw Williams said:
The majority of the businesses we visit are welcoming and happy to work with us. But the Environment Agency has a zero tolerance approach to obstruction and threatening behaviour on our staff and we will not hesitate to prosecute.
Published 17 February 2017