Press release
Whole genome sequencing to revolutionise investigation of outbreaks of infectious disease
The genomes of over 28,000 bacteria and viruses have been sequenced by Public Health England in a revolution in microbiology.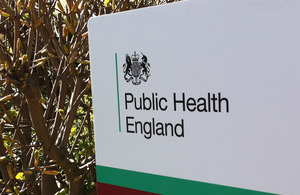 Public Health England (PHE) is at the forefront of using new whole genome sequencing (WGS) technologies to improve the diagnosis and control of infectious diseases and is leading the implementation whole genome sequencing HIV, tuberculosis (TB) and hepatitis C in the context of the 100,000 Genomes Project.
PHE is also working with Genomics England as part of the 100,000 genomes project to apply WGS to further our understanding of why some people develop severe reactions to infections (sepsis).
To date over 28,000 bacteria and virus genomes have been sequenced including over 3,500 salmonella genomes and it is now being routinely used as part of PHE's specialist microbiology and epidemiology services. PHE is already benefitting from the application of WGS through improvements in surveillance and outbreak investigation.
WGS has a wealth of benefits including:
improving our understanding of the evolution of bacteria and viruses
helping us to understand how some strains can cause more serious disease than others (virulence)
further our understanding of patterns of antibiotic resistance
gaining insights as to why some people are more susceptible to infections than others (potentially)
informing improved and targeted infection control measures
WGS provides such a level of detail it can be used to add to the evidence to pinpoint the source of an outbreak. Use of the technology has also revealed outbreaks of gastrointestinal illness that occur for a limited time frame and involve small numbers of people which would have previously occurred under the surveillance radar. Recognition of these smaller outbreaks earlier than previously possible means that we can act sooner to control the outbreak and therefore reduce the number of people infected.
Other progress is also being made through collaborations with universities and other organisations to further understand the benefits of this new technology and how best to use it.
Dr Isabel Oliver, genomics lead at PHE, said:
PHE is very excited about the potential for whole genome sequencing as it can offer very valuable insights which can inform public health actions. We are still learning a lot about these technologies but hope that we can harness its full potential to provide rapid information that will help healthcare professionals deliver the best care for patients. We are committed to working in partnership with Genomics England and NHS England as part of the 100,000 genomes project.
Notes to editors
PHE exists to protect and improve the nation's health and wellbeing and reduce health inequalities. It does this through advocacy, partnerships, world-class science, knowledge and intelligence, and the delivery of specialist public health services. PHE is an operationally autonomous executive agency of the Department of Health. www.gov.uk/phe Follow us on Twitter @PHE_uk
Infections press office
PHE press office, infections
61 Colindale Avenue
London
NW9 5EQ
Whole genome sequencing and antibiotic-resistant bacteria: media background (PDF, 94.2KB, 2 pages)
Published 1 August 2014