Whitehall spending controls extended permanently
Cross-Whitehall spending controls will be a permanent way of life the Minister for the Cabinet Office, Francis Maude, announced today.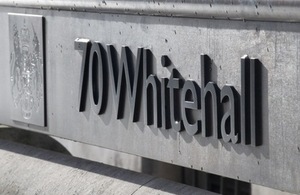 Cross-Whitehall spending controls will be a permanent way of life the Minister for the Cabinet Office, Francis Maude, announced today. This latest announcement, which ensures government operates in a more businesslike fashion, comes on the day Francis Maude meets 20 of the government's key suppliers to mark the next phase of its strategic supplier programme.
To help address the deficit and save the taxpayer money, the government introduced in 2010 temporary controls on spending in areas including advertising and marketing spend, ICT, recruitment, property and consultancy. The result was a staggering £3.75 billion of cash savings in 2010 to 2011, and efficiency savings for 2011 to 2012 - which are currently being audited - are expected to top £5 billion.
By creating an overall picture of where the money is going, the controls allow government to act strategically in a way it never could before. For example, strict controls on ICT expenditure do not just reduce costs but also reveal the software, hardware and services that departments are buying and whether there is a competitive mix of suppliers and software standards across government.
Minister for the Cabinet Office, Francis Maude, said:
We are ensuring that government operates in a more businesslike fashion than ever before. To deal with the deficit we inherited in 2010 and to protect every taxpayer's pound we are relentlessly driving efficiency savings.

Our cross-Whitehall controls on spending have made billions of cash savings for the taxpayer - something that has never been done before. That's why I'm pleased to confirm that our controls will be a permanent feature, helping to change fundamentally the way government operates.

I want Whitehall procurement to become as sharp as the best businesses. Today, I will tell companies that we won't tolerate poor performance and that to work with us you will have to offer the best value for money.
The suppliers at today's meeting represent around £15 billion worth of central government contract spend and will be asked for their feedback on the government's approach to business over the past two years. They will also be briefed on the expanded Cabinet Office team of skilled negotiators (Crown Representatives) from the private and public sectors. These negotiators aim to maximise the government's bulk buying power to obtain strategic discounts for taxpayers and end the days of lengthy and inflexible contracts. They also make life easier for business by providing a single contact.
At the meeting, Francis Maude will tell businesses that the government will strengthen its supplier management by monitoring suppliers' performance for the Crown as a whole. This means that formal information on a supplier's performance will be available and will be taken into consideration at the start of and during the procurement process (pre-contract). Suppliers with poor performance may therefore find it more difficult to secure new work with the government.
The Cabinet Office has published new guidance on the controls today which confirms, for the first time, that they are permanent. The guidance simplifies the process for departments and their arms-length bodies. The Civil Service Reform plan called for tighter control and oversight where collective action is needed for effectiveness and efficiency. The controls help to deliver this, and are an example of a much stronger corporate leadership model, supporting greater sharing of services and expertise.
Notes to editors
The controls cover:
advertising, marketing and communications
commercial (strategic supplier management, including disputes, and commercial models)
ICT & Digital
HR & workforce (including the external recruitment control, consultancy, redundancy & compensation, and civil service learning)
property
The 20 suppliers meeting with Francis Maude are:
Accenture
Airwave
Atkins
Atos
Babcock
Balfour Beatty
BT
Capgemini
Capita
Carillion
G4S
HP
IBM
Interserve
Kier Group
Logica
Serco
Sodexo
Steria
Telereal Trillium
Further information about the supplier renegotiations and Crown Representative network.
About the Cabinet Office efficiency agenda:
Tight controls on spending and a businesslike approach to government have led to cash savings of £3.75 billion from May 2010 to April 2011, and the government anticipates a further £5 billion in savings for the financial year 2011/12. For further information see:
Published 28 June 2012