Press release
Francis Maude reveals £3.75 billion in savings
Minister for the Cabinet Office Francis Maude has today revealed that the government has saved £3.75bn in ten months.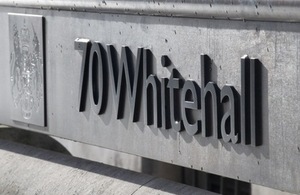 Minister for the Cabinet Office Francis Maude has today revealed that the government's ambitious approach to saving money has delivered a staggering £3.75 billion of cash savings in just ten months, from May 2010 to March 2011.
This follows Francis Maude's pledge in October last year to leave "no stone unturned" in the hunt for more savings at the centre of government, delivering better for less, to address the deficit while protecting the front line and will help departments live within their tighter budgets.
Francis Maude, Minister for the Cabinet Office said,
Today's figures show that our ambitious targets to cut waste and save money have paid off. To put £3.75 billion into context, it's equivalent to the salaries of 200,000 junior nurses; or 150,000 secondary school teachers; it could pay for several Whitehall departments; and it's about the same as the revenue derived from one penny of the basic rate of income tax.
"We promised to drive out inefficiency and unjustifiable costs in central government. It is these savings, which have been achieved in just ten months, that have allowed departments to protect essential front line services and jobs. Following an independent audit, I can confirm today that these measures have saved central government departments £3.75 billion.  That's £3.75 billion of tax-payers money that would have been frittered away: on renting buildings that just weren't necessary; on advertising government projects to the very tax payers that are paying for them.
"But this is just scratching the surface of what we have planned for the coming months and years. We will continue to seek out, and eradicate waste in government, whilst also delivering longer term programmes of reform to ensure sustainable change and room for growth across the public sector.
The savings figures released today have come from efficiency and reform measures implemented across government and have been independently audited. The savings include:
Reducing non-essential discretionary spend
£870 million saved by cutting departmental spend on consulting
Nearly £500 million saved by reducing spend on temporary agency staff
Smarter procurement
£400 million saved by taking stronger control of our marketing spend, we have reduced spend through the Central Office of Information on relevant categories by 80 per cent.
£360 million saved by centralising spend on common goods and services
£800 million saved from renegotiating deals with some of the largest suppliers to government, equivalent to 6 per cent of a full year of spend with those suppliers.
Major projects and ICT
£150 million saved from 2010/11 budgets for government's major projects, by halting or curtailing spending; and
£300 million saved by applying greater scrutiny to our ICT expenditure, departments have stopped or reduced spend on low value ICT projects.
Property and estates
£90 million reduction in the ongoing cost of our Property estate by exerting better control over lease renewals.
A smaller civil service
An equivalent of £300 million saved on 2010/2011 salary costs by reducing the size of the civil service, for example by putting stronger controls on non-essential recruitment. This has contributed to a reduction in the size of the Civil Service of more than 17,000.
These savings will play an important part in the Government's objective to tackle the deficit while improving the effectiveness, accountability, transparency and availability of choice in public service delivery.  Francis Maude also stressed today that this is just the beginning of the reform agenda; there is much more yet to deliver. Additionally the Efficiency and Reform Group will be driving through measures:
to bring down levels of fraud, error and debt;
to open up public services by establishing mutuals;
to increase efficiency by driving ever greater levels of on-line, digital delivery;
to build on the Government's support for SMEs and increase their participation in the business of Government.
Notes to Editors
1.   The Efficiency and Reform Group (ERG) is based in the Cabinet Office, it was set up to ensure that departments across Whitehall adopted a new and ambitious approach to saving money and started working together to ensure the greatest economy of scale when buying goods and services.  It also brings the best in private sector operations practice to government for the first time.
The Group oversees information and communications technology spend, procurement, marketing and consultancy spend, and Civil Service expenses and recruitment.  Much of its work has never been tried by Government before, such as renegotiating contracts with major suppliers across government to reduce costs, and a freeze on all new advertising and marketing spend.
 2.   The work of ERG is overseen by an Efficiency Board, chaired jointly by the Chief Secretary to the Treasury, Danny Alexander, and the Minister for the Cabinet Office and Paymaster General, Francis Maude.
 
3.   ERG will ensure Departments work together to tackle waste and improve accountability across a range of areas, including information and communications technology (ICT), procurement, projects, HR and property.  Its first priority is to support Departments in the delivery of £6.2 billion savings in 2010/11.
Published 1 August 2011