Press release
Whitehall releasing its grip on unused public land
Enough brownfield land released to build 68,000 homes and support 135,000 jobs.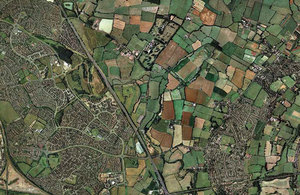 Whitehall departments have sold enough brownfield land to build 68,000 homes, the same number as in the whole of Blackpool, Housing Minister Kris Hopkins said today (20 February 2014).
Over 430 sites have been sold across the country. Every new home supports up to 2 jobs, so these land sales will sustain over 135,000 jobs as the homes are built.
Mr Hopkins said the government had delivered on its promise to release thousands of acres of previously-developed land and property under the public sector land programme, and called on housebuilders and developers to get on and use the land to build more homes.
Property specialists have been working with Whitehall departments that have surplus land, challenging them to release as much as they can to build new homes. Today's figures show the government is on track to release enough land for 100,000 homes by 2015, with over two-thirds of the programme completed.
Housebuilding is now at the highest level since 2007 and business confidence is growing, with small firms such brick factories benefiting from the surge in construction orders, which are increasing at the fastest rate for 10 years.
Setting an example for councils
Mr Hopkins said even more public land should be released to maintain momentum, and urged councils to follow the lead set by central government by making their unused land available for development.
Since January 2014 a new Right to Contest has enabled the public to challenge the government about land and property they feel could be put to better use, and ask for it to be sold.
A new 'Rightmove-style' search engine will be launched for all government property. Covering real estate from motorway lay-bys to vacant airfields, it will make it possible to search the government's property portfolio by town and postcode, with maps showing the extent of the estate.
The public can also challenge councils to release land and property, under the Right to Reclaim Land, and ministers are encouraging the public to consider if there are sites in their area that they could put to better use.
Independent estimates suggest that the public sector holds up to 40% of land suitable for development and around 27% of brownfield land that is appropriate for new housing.
Housing Minister Kris Hopkins said:
The government is a major landholder and hard-working taxpayers expect us to use these assets effectively. That's why we have already delivered on our promise to release thousands of acres of brownfield land, the same number of homes as are in the whole of Blackpool, to protect the greenbelt and build new homes where they are needed.

We're making it easier for the public to see what land we own, and challenge us if they think they could use it better. Councils should now follow our lead, and consider if their land and property could be sold and used for delivering new homes, jobs and businesses in their communities.
New homes on brownfield land
The government's national housing agency, the Homes and Communities Agency, has been helping departments to sell their land and encourage new development on these sites. Examples include:
Princess Marina Hospital, Upton, Northampton
the former 1950s hospital and campus has been sold to Persimmon Homes for 550 homes plus 4000 square metres of commercial space; the first homes are now being marketed and are available under Help to Buy
Booth Hall Hospital, Salford
Booth Hall Hospital closed in 2009 following the opening of the new Royal Manchester Children's Hospital in Manchester
the first phase for 150 homes has just been launched with a choice of 2, 3 and 4 bedroom new homes in a range of mews, semi-detached, townhouse and detached designs, many available under Help to Buy
Aldershot Urban Extension Sites, Hampshire
the large brownfield site, formerly owned by the military, will include 150 hectares of development land and over 100 hectares of green open space
the proposed new community, called Wellesley, will include 3,850 new homes, with over a third affordable; historic buildings like the Cambridge Military Hospital and Headquarters 4th Division will be preserved and brought back into use as homes and community facilities
Strategic land review
Earlier this year the government also launched the strategic land review to deliver at least £5 billion land and property disposals between 2015 and 2020.
The review will identify where further public sector land can be disposed of to support housing and economic growth. This exercise will report at Budget 2014.
Office address and general enquiries
2 Marsham Street
London
SW1P 4DF
Contact form http://forms.communiti...
General enquiries: please use this number if you are a member of the public 030 3444 0000
Published 20 February 2014