Press release
Westmorland flag flies proudly at heart of government
Westmorland flag flies outside the offices of the Department for Communities and Local Government as part of Westmorland Day celebrations.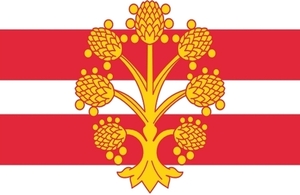 In the past, it has been known for many parts of Whitehall and municipal officialdom to shun historic counties, many of which date back over a thousand years of English history. However, the Communities Secretary, has been clear that the government will seek to encourage the marking and continued use of such traditional county names.
Mr Pickles is encouraging local residents to continue to champion such local identities, irrespective of current tiers of local administration. Working with the independent Flag Institute, the government is also encouraging more local communities to create their own local flags.
The historic county of Westmorland ceased to exist as an administrative county following boundary changes in 1974 which saw it absorbed into Cumbria.
The Westmorland Association designed and developed the Westmorland flag in consultation with Flag Institute and its design is based on the banner of arms of the former Westmorland County Council. The flag was formally registered in 2012 and the Association hope the new flag will become a recognised symbol for the South Lakes, by adorning buildings and merchandise, being displayed at county events and adopted by the county's sports teams.
On the hoisting of the Westmorland flag, Communities Secretary Eric Pickles said:
I'm delighted to celebrate Westmorland Day by flying the flag of this historic county outside my government department's headquarters.

England's historic counties continue to form an important part of our cultural and local identity in this country and many people remain deeply attached to their home county. This sense of pride and shared identity is one of the things that binds communities together. No amount of administrative tinkering with boundaries can change that.
Picture Wikicommons copyright, courtesy of The Westmorland Association
Further information
Last year, Mr Pickles relaxed the rules relating to the flying of flags to make it easier for the public to fly a wider range of flags without the need for express consent which could cost up to £335. The changes will increase the number of flags that people can fly, promoting integration and community spirit.
Flying flags: a plain English guide - a guide to the flags that can be flown without permission from your local planning authority.
The Flag Institute guide to community flags aims to help communities design their own flags or organise a competition to design one.
Published 1 October 2013