Press release
Welsh Secretary: "This Government is on the side of small businesses"
UK Government launches 'Small Business: GREAT Ambition' strategy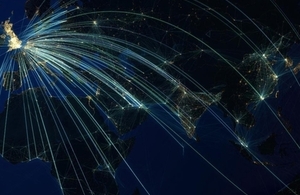 The launch of this new strategy will help small businesses owners push the boundaries of their ambitions and it is a clear statement of this Government's promise to supporting small businesses, Welsh Secretary David Jones said today.
The Small Business: GREAT Ambition is a statement of commitment to go-getting firms across the UK, and is the latest in a wave of UK Government led activity designed to help make it easier for small businesses to grow.
Today's announcements and commitments which will apply in Wales include:
Brand new broadband vouchers – 22 cities across the UK – including Cardiff and Newport - will benefit from £100 million of Broadband vouchers worth up to £3,000 each to help more small firms boost their business by accessing super-fast broadband

A fairer deal on energy- An agreement with the energy firms to end auto-rollovers for business customers, limit back billing, increase transparency of contract terms and make switching easier.
This builds on the commitment to invest £250 million extra on top of the £1 billion new capital for the British Business Bank and extending Small Business Rates Relief – making it easier for small firms to finance their growth.
The launch comes on the day that people in Wales prepare to support the UK's first 'Small Business Saturday' - a national campaign designed to encourage people to shop locally and support small businesses in their communities.
Small and Medium Enterprises (SMEs) contribute 36% of all private sector turnover in Wales, and are responsible for 630,000 jobs. Since 2010, over 1,000 more SMEs have set up in Wales.
Today, the Secretary of State for Wales, David Jones is urging small business owners to make their own 'GREAT Ambitions' a reality, by seizing the UK Government's support services to help them grow.
Mr Jones said:
We have an abundance of small businesses here in Wales that are displaying the drive and ambition needed to propel the economy to a strong recovery.

The launch of the Small Business: GREAT Ambition strategy shows that this Government is listening to the British business community and is doing all it can to remove the barriers they face, improve the business environment and make it easier for them to fulfil their potential.

Small Business Saturday also provides us with the prime opportunity to throw the spotlight on the range of measures that this Government has put in place to support ambitious small businesses and entrepreneurs in Wales. I would encourage all budding entrepreneurs and business owners in Wales to seize the opportunities on offer.
In addition to the measures announced today, businesses in Wales are also currently able to benefit from:
A £1 million sector-specific mentoring scheme will enable firms to benefit from support and advice from experienced business people in their own fields

A £10 million start up fund launched by the Biotechnology and Biological Science Research Council (BBSRC) to help entrepreneurial scientists in this field to get their business off the ground

The Business Bank Investment Programme which will provide a boost to small businesses, giving them access to much needed capital

Start Up Loans - crucial support in the form of a repayable loan together with a business mentor for entrepreneurs across the country.

The Business is GREAT campaign website has also been launched, bringing together, all the support from across Government.
This follows a substantive package of support in this week's Autumn Statement for small businesses, which included an extension of the doubling of Small Business Rate Relief to April 2015, a business rates discount of up to £1,000 for retail businesses and making it cheaper to employ staff aged under-21.
Small Business: GREAT Ambition also states that Lord Young will conduct an Enterprise Education Review and make recommendations on how to inspire more people with the entrepreneurial spirit needed to succeed in employment or enterprise. He will report back in summer 2014 on his findings.
Mr Jones added:
Our small and local businesses are part of what makes Wales GREAT. Helping entrepreneurs to start, grow, and nurture their businesses is one of the most important things any Government can do, and by launching this important strategy, we are renewing our commitment to doing just that.
Notes to editors:
Small Business: GREAT Ambition is available to read in full here
Small Business: GREAT Ambition sets out the Government's will:
increase support for innovation through a £50 million investment in popular Smart grants for small firms, three new 'Launchpad' competitions to spur on innovation clusters and new networks to showcase innovative small firms to investors.

Firms wanting to export will be able to benefit from greater support from UK Export Finance. We are doubling the number of regional Export Finance Advisors, simplifying application forms and working with the banks to make them more aware of UKEF support and to provide clearer information that can be passed on to customers.

The Government, the BBA and the major banks will work together to create a strengthened referral process by the end of 2014, so that business which may be declined finance can be signposted to an even wider range of other finance providers, brokers and advisors.

Small businesses will also be given a stronger voice to challenge heavy-handed regulation, including a new independent Small Business Appeals Champion in every non-economic regulator. These Champions will have responsibility for making sure small businesses have a proper route of appeal
Published 7 December 2013
Last updated 9 December 2013
+ show all updates
Add Welsh translation
First published.