Welcome to our new MHRA website
The Medicines and Healthcare Products Regulatory Agency (MHRA) website is now on GOV.UK.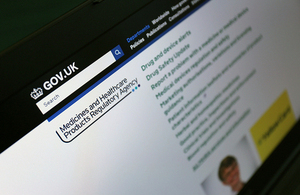 Our new web address is www.gov.uk/mhra.
As part of the move to GOV.UK our content has been rewritten so it is easier and clearer to understand.
We've focused on the needs of our users to make decisions about how our content is presented.
How does this affect you?
Bookmarks and saved links to MHRA's old website will still take you to the information you need. You'll automatically be redirected to relevant content on GOV.UK, NHS or to The National Archives, where a copy of the old website has been saved.
The move to GOV.UK won't affect existing online services.
You'll still be able to access important services, like our safety alerts and guidance on applications by using the same web links you currently use or you'll find links to them on GOV.UK.
Finding what you are looking for on GOV.UK
Here is a short video to show you how to find our information on GOV.UK.
Using GOV.UK to find MHRA content