News story
Weather changing but heat warnings continue
Warm weather to continue – but heavy rain forecast prompts flood alert.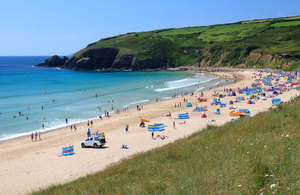 Hot weather will continue across much of England this weekend, but Public Health England (PHE) is today (18 July 2014) also urging people to keep up to date with weather forecasts as heavy rain, that may cause flooding, is on the way.
The Met Office has today, Friday, issued an amber warning for torrential rain across much of England and said that over the weekend temperatures may remain in the mid-to-high 20s.
PHE's Director for Health Protection, Dr Paul Cosford, said:
Avoiding the ill-effects that hot weather can bring is, as we've been saying, largely common-sense. Drink more fluids, stay out of the sun during the hottest times of the day, use sunscreen and wear light, loose clothing.

Most people will do this automatically but it's worth reiterating these messages because when we get weather like this we have evidence that there is often a rise in death rates as some people struggle to cope with the changes in temperature.

Prolonged heat poses a particular risk to the old, young and those with heart and lung conditions, who may feel the effects of hot weather more acutely than others, so heat health warnings are worth repeating and although rain is forecast for the weekend it also will remain very warm in a number of places.

The Met Office is predicting heavy rain and thunder in some places across the country this weekend and an increased risk of flooding for some, though they cannot be sure precisely where. So we're also urging people this weekend to be aware of the heat and risks it may bring them, but also to keep up-to-date with the weather forecast and flood warnings and alerts for your area
Paul Gundersen, chief meteorologist at the Met Office, said:
We're expecting heavy thundery showers from Friday night through the weekend with the potential for torrential downpours, large hail, frequent lightning and locally strong gusts.

Not everywhere will see thunderstorms, but where they do form we could see significant rainfall in a short space of time which could cause localised flooding.
The Met Office website has up-to-date weather forecasts and the Environment Agency website has lots of useful information about flooding.
Top advice for being sun safe:
try to keep out of the sun between 11am to 3pm
apply sunscreen of at least SPF15 with UVA protection
wear UV sunglasses, preferably wraparound, to reduce UV exposure to the eyes
wear light, loose-fitting cotton clothes, a hat and light scarf
drink lots of cool drinks
look out for others especially vulnerable groups such as older people, young children and babies and those with serious illnesses
never leave anyone in a closed, parked vehicle, especially infants, young children or animals
try to keep bedrooms and living spaces cool, by closing the curtains on windows that receive the sun and opening windows at cooler times of the day and overnight when you can. Turn off non-essential lights and electrical items as these generate heat
The Muslim Council of Britain and the NHS have published information on coping with heat, for those who may be fasting during Ramadan
Local authorities, professionals and community groups can prepare for hot weather by reviewing the Heatwave Plan for England on the PHE website.
Published 18 July 2014