Press release
Wales Office Ministers lend their support to Queen's Baton Relay
Glasgow 2014 Commonwealth Games baton to begin 7-day tour of Wales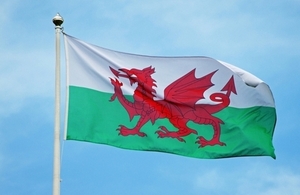 Wales Office Ministers will next week support the Team Wales Commonwealth Games effort as they prepare to share in the country-wide celebrations to mark the Queen's Baton Relay through Wales.
The baton will arrive at Cardiff Airport on 24 May, marking the start of its 7 day tour of Wales which will involve visits to a mixture of close knit community events, large multi-sport bonanzas and cultural landmarks.
Wales Office Ministers will be at the following locations:
Baroness Jenny Randerson will greet the batonbearers at the Street Games event at Ebbw Vale on 24 May.
Stephen Crabb MP will join the celebrations in St Davids in Pembrokeshire on 28 May.
The Secretary of State for Wales David Jones will mark the culmination of the baton's journey in Llandegla, Denbighshire, on 30 May, ahead of its handover to England.
Secretary of State for Wales David Jones said:
The Commonwealth Games provides Wales with an opportunity to compete internationally as a nation in its own right. Together, the Commonwealth nations have strong, shared bonds of friendship, culture and heritage. Those values have the opportunity to shine as the Queen's Baton Relay travels through the British Isles.

This year, the international spotlight will shine on Wales when it plays host to the NATO Summit, and the Relay will provide us with an early opportunity to highlight Wales's rich culture, heritage and our passion for sport. I look forward to seeing everybody join together to celebrate their communities, rally behind our athletes and show the Commonwealth all the great things that Wales and the UK, as a family of nations, has to offer.
Wales Office Minister Baroness Jenny Randerson said:
These celebrations will bring the dedication of our athletes, the heart-warming stories of local heroes and the spirit of the Commonwealth Games right to the heart of our local communities.

Each batonbearer has their own unique story, be they an elite athlete, someone who has overcome adversity or who makes a difference to their community. I congratulate the many deserving people across Wales who have been selected to play their part in the relay and I look forward to sharing in the celebrations.
Wales Office Minister Stephen Crabb MP said:
Wales is a proud sporting nation and I hope the baton relay will inspire Welsh athletes of the future. With the momentum gathered during the baton's 7-day journey, our athletes will take the full support and best wishes of the people of Wales as they prepare to compete at the Glasgow 2014 Commonwealth Games.
The baton will be carried through Wales by a mixture of celebrities, athletes past and present and people nominated in recognition of their contributions to sport, community and youth projects.
Published 22 May 2014