Press release
Wales Office Minister highlights government boost to community energy
Baroness Randerson hosts meeting on local energy projects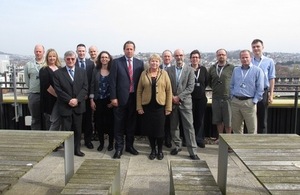 Experts from community energy groups met with Wales Office Minister, Baroness Jenny Randerson earlier this week (31 March) to discuss how local communities in Wales can take control of their energy bills by setting up their own local energy projects.
In January this year, the UK government published its Community Energy Strategy which sets out the role that communities can play in helping to meet the UK's energy and climate change challenges, including supporting a sustainable and secure energy system; reducing UK greenhouse gas emissions; and lowering consumer bills.
As part of her commitment to promote the Big Society in Wales, Baroness Randerson welcomed the group of experts to the University of South Wales in Newport, to examine the opportunities and challenges local groups face when setting up community energy projects.
Baroness Randerson said:
"Community led action, such as collective switching and local energy generation projects, gives people the power to bring down bills and encourages competition within the energy market. That is why I wanted to bring this group together to better understand what work is already being undertaken to support community energy projects, to highlight successful projects, and to determine what more can be done to encourage more communities to become involved in community energy.
"Wales is perfect for small scale renewable energy cooperation between companies and the local community. I want to encourage groups of people across the country to participate in a community energy movement and take real control of their energy bills, which will in turn help to address important issues such as fuel poverty in Wales."
The Department for Energy and Climate Change provided the group with an overview of the UK government's Community Energy Strategy and an update on implementation and next steps.
A Welsh Government Official also attended to talk about Ynni'r Fro, the Welsh Government's scheme to support community scale renewable energy.
The group also heard from Andrew Rowland who highlighted his own personal experiences of setting up a community energy project, and the work of Ecodyfi which has helped a number of other projects in the Dyfi Valley. Of the event he said:
"I was pleased with the event, it was a frank discussion and the Minister was keen to understand the reality of what is needed to grow the community energy sector."
Baroness Randerson added:
"The key aim of the Big Society is to help people to come together within their communities to improve their lives.
"There are already a number of existing community energy projects in Wales and there is clearly an appetite for more to be set up. I want to make sure the UK government and Welsh Government work more closely together to provide communities with the assistance and advice necessary to enable them to bring local energy projects to fruition."
Further Information
The Community Energy Strategy set out the UK Government's vision for scaling up the community energy sector.
Plans include:
Setting up a new Community Energy Unit, to act as the Department's lead on community energy and coordinate the work on implementing the Strategy
Launching a £100,000 UK-wide community energy saving competition
Setting up a UK industry-led taskforce to achieve greater shared ownership of new onshore renewables developments
Establishing a £10 million Urban Community Energy Fund (for England)
Providing seed funding for a one stop shop information resource(primarily for England)
Establishing new working groups to examine the regulatory issues and recommend ways in which to address the barriers to growth.
We now have working groups on finance, grid connection, hydropower and planning. They will report to the Secretary of State of Energy and Climate Change later this year.
Learn more about the UK government's Community Energy Strategy
Guests in attendance at the meeting included:
Professor Alan Guwy, University of South Wales
Lucy Morgans, Department of Energy and Climate Change
Andrew Rowland, Ecodyfi
Charlotte Gibson, Welsh Government
Robert Proctor, Renew Wales
David Fitzpatrick, Cynnal Cymru/Sustain Wales
Grenville Ham, The Green Valleys
Duncan McCombie, Energy Saving Trust
Dr David Clubb, Renewable UK Cymru
Jon d'Estre-Hoare, the FSE Group
Tomos Davies, Community Housing Cymru Group
Anna Rees, The Waterloo Foundation
Nick Wood, The Waterloo Foundation
Huw Smallwood, Tegni Cymru
Published 1 April 2014