Press release
Wakefield urged to drop in for blood pressure test
1 in 3 residents have high blood pressure.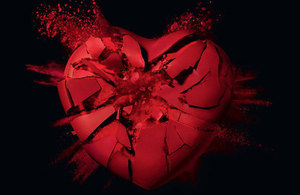 Today, 3 March 2014, Public Health England (PHE) joins local businesses, pharmacies and public services to launch a pilot campaign in Wakefield to identify people with undiagnosed high blood pressure.
Nearly a third of adults (84,000 people) in Wakefield are estimated to have high blood pressure however around 30,000 people are not yet diagnosed.
High blood pressure is estimated to cause over 20% of heart attacks and 50% of strokes. Last year in Wakefield, there were over 1,000 emergency admissions to hospital for a heart attack or stroke. During the same period, 179 people died from a heart attack and 148 from a stroke.
The new 4-week campaign will encourage people aged 40 and over to visit one of over 50 blood pressure drop-ins set up across the area from 10 March 2014, that make it convenient for people to get a quick, free test. Here, health workers will also be on hand to offer information and lifestyle advice, to help people achieve or maintain a healthy blood pressure, on a walk-in basis.
Wakefield is uniting in the search for those with undiagnosed high blood pressure – everyone from community pharmacies, Wakefield Council and West Yorkshire Police, to local businesses including Arriva, Asda and Morrisons, are playing a part in raising awareness of the campaign and encouraging their employees and customers to have the quick test.
Dr Stephen Morton, PHE's Centre Director for Yorkshire and the Humber, said:
Your chance of having high blood pressure increases as you get older however the condition is often symptomless and is impossible to spot without a test. This is why a number of drop-ins have been set up across Wakefield – to make it as easy as possible for people to find out if they are one of the 30,000 people currently undiagnosed with high blood pressure in the area.

By working closely with community groups and organisations we hope to reduce premature deaths by raising detection of high blood pressure and educating everyone on the steps they can take to control their blood pressure.
There are a number of steps people can take to help manage their blood pressure, including losing weight, exercising regularly, cutting down on salt and eating a healthy diet.
Councillor Janet Holmes, Mayor of Wakefield, is backing the campaign that is close to her heart:
I am so pleased that Public Health England's first-ever blood pressure campaign is being piloted in Wakefield and the community is really getting behind it.

Having experienced a heart attack myself and losing my husband to the same condition last year, I know first-hand the importance of getting your blood pressure checked. It could save your life; it's as simple as that. It's a painless, 5-minute test that will be widely available across the whole of Wakefield over the coming 4 weeks. If high blood pressure is identified, there are treatments available, but time really is of the essence. If left untreated, your risk of a heart attack or stroke increases.
Knowledge and understanding of high blood pressure is relatively low. New survey data found, worryingly, that almost a third of adults (31%) in Yorkshire and the Humber are surprised by the fact that high blood pressure rarely has any symptoms.
Director of Public Health at Wakefield Council, Dr Andrew Furber, said:
There is often no clear cause of high blood pressure, however, there are several risk factors including being overweight, drinking a lot of alcohol and a lack of exercise.

If you are 40 and over and haven't had your blood pressure checked recently, visit nhs.uk/bloodpressuredrop and find your nearest blood pressure drop in today.
The campaign will see adverts running on radio and in the press across Wakefield from today (3 March 2014) while the blood pressure drop-in testing points go live on 10 March 2014.
Notes to editors
Public Health England's mission is to protect and improve the nation's health and to address inequalities through working with national and local government, the NHS, industry and the voluntary and community sector. PHE is an operationally autonomous executive agency of the Department of Health. Follow us on Twitter @PHE_uk

The campaign supports the government's Cardiovascular Disease Outcomes Strategy, which aims to help improve the outcomes for people with, or at risk of, cardiovascular disease.

Public Health England has developed the 'Blood Pressure Drop In' pilot campaign in partnership with clinical advisors, the Wakefield Council public health team, South West Yorkshire Partnership NHS Foundation Trust, representatives of local primary care clinical networks including Local Medical Committee, and Community Pharmacy West Yorkshire. The British Heart Foundation, Blood Pressure UK and Stroke Association have also played a key role in the development of the campaign.

The campaign will see adverts running on radio and in the press across Wakefield from today (3 March 2014) while the blood pressure drop-in testing points go live on 10 March 2014.

The full list of partners supporting the 'Blood Pressure Drop' In pilot campaign include; Wakefield & District Housing, West Yorkshire Police, West Yorkshire Fire Service, Wakefield College, Together Housing, Haribo, Acxiom, Arriva Yorkshire, Ferrybridge Power Station, Card Factory, Arriva Wakefield Bus Station, Teva UK Limited, Newly Weds® Foods Limited, Morrisons Pontefract, Mecca Bingo, Gala Bingo.

It is estimated that 28.5% of the adult population in Wakefield are classified as obese. This is higher than England (24.2%) and higher than Yorkshire and the Humber (26.3%).

Targeted blood pressure testing as part of this pilot complements the NHS Health Check offer - a more comprehensive risk assessment for heart disease, stroke, kidney disease, diabetes and some forms of dementia. NHS Health Check is offered every 5 years to everyone aged 40 to 74, apart from those who have already been diagnosed with one of these conditions or have certain risk factors.
Robbie Turner Chief Executive Officer at Community Pharmacy West Yorkshire:
Community Pharmacy West Yorkshire is delighted to be a key partner in the Wakefield blood pressure drop in. Community pharmacies in Wakefield already offer many high quality and accessible health and wellbeing services and this campaign to encourage the public to know their blood pressure numbers is an ideal way to see the range of services community pharmacy can offer you in improving your health.

We encourage people over 40 to drop into their local community pharmacy from 10 March 2014 and get a simple free blood pressure check
Mary Lowrey, General manager of Arriva Wakefield Bus Station said:
We're really pleased to support this campaign and we are encouraging all our drivers, engineers and office staff to drop in and have a quick check up. We hope other businesses in Wakefield will take up this opportunity for their staff to come over to the bus station and join in too.
Faisal Tuddy, Deputy-Superintendent Pharmacist at Asda, said:
The health and wellbeing of our colleagues and customers is hugely important to us so this is why we are backing this blood pressure campaign. Too many people have undiagnosed high blood pressure in Wakefield and we hope to play a part in changing this alongside the rest of the local community.

We aim to spread the word amongst our hundreds of colleagues in our stores and distribution centres in Wakefield, along with thousands of local customers, some of whom could be affected by undiagnosed high blood pressure. As well as running Blood Pressure Clinics in our distribution centres, the drop-in clinic will visit Asda stores across the area over the coming weeks – so we'll leave no stone unturned in our bid to ensure that our Wakefield community takes advantage of the free, 5-minute test.
Catherine Kelly, Director of Prevention and Care at the British Heart Foundation, said:
High blood pressure has no symptoms yet can have life changing consequences if left untreated. It's vitally important that people know their numbers, but the only way to know if you have high blood pressure is to get tested.

This pilot is a great opportunity for the people of Wakefield to get checked out without an appointment. They can either be reassured or advised to see their GP for follow up and treatment if required. Remember that you can help to control your blood pressure by cutting down on salt, keeping active and maintaining a healthy weight.
Graham MacGregor, Professor of Cardiovascular Medicine and Chairman of Blood Pressure UK, said:
Never mind your telephone number, the most important number you should know is your blood pressure reading and whether it's high or not. A large proportion of Wakefield residents are unaware of the fact that they are walking around with high blood pressure; knowing their numbers could save their life.

I would therefore urge everyone over the age of 40 in the area to take advantage of this campaign and visit their local pharmacy or blood pressure drop in point today.
Jennifer Cowling, Deputy Head of Operations (Yorkshire and Humberside) at the Stroke Association said:
We are delighted to support this pilot in Wakefield, getting your blood pressure checked regularly is absolutely essential in order to keep your risk of stroke down. High blood pressure is the single biggest risk factor for stroke; we estimate that almost half of strokes could be prevented if people with high blood pressure took steps to control it either through lifestyle changes or medication. Someone in the UK has a stroke every three and a half minutes so initiatives like this, that enable people to get tested quickly and often, could make a huge difference.
Your chances of having high blood pressure increase, as you get older. There is often no clear cause of high blood pressure but you are also at increased risk if you:
are overweight
have a relative with high blood pressure
are of African or Caribbean descent
eat a lot of salt
don't eat enough fruit and vegetables
don't do enough exercise
drink a lot of coffee (or other caffeine-based drinks)
drink a lot of alcohol
There are a number of steps you can take to help prevent high blood pressure, such as:
losing weight if you need to
exercising regularly
eating a healthy diet
cutting back if you drink a lot of alcohol
stopping smoking
cutting down on salt
cutting down on caffeine
Published 3 March 2014