Voters to register individually by 2014
Voters will be asked to register individually from 2014 in order to modernise the electoral registration system and tackle fraud.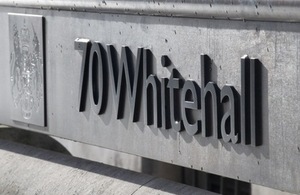 From 2014, voters will be asked to provide their date of birth, signature and national insurance number, all of which will be cross-checked, before they are added to the register. The process will replace the existing system of household registration, in which one person at each address is responsible for providing the names of eligible voters who live there.
The measure will speed up the timetable for implementing individual registration, which was not due to replace household registration until 2015 at the earliest.
Minister for Political and Constitutional Reform Mark Harper said:
It's widely recognised that the electoral registration system as it stands is out of date and needs to change. It is too vulnerable to fraud and this inevitably knocks the confidence of voters. Getting on with fixing this problem is essential if we are to restore public trust in our democracy.
No voters will be removed from the electoral register for not registering individually until after the next General Election, due to take place in May 2015, giving people at least 12 months to comply with the new requirements. Any new registrations from 2014 will be on an individual basis and from that point voters will also need to register individually to cast a proxy or postal vote.
The government also plans to look at how it can increase the number of people on the register. A pilot scheme to be launched next year will enable electoral registration officers to compare the electoral register with other public databases and identify eligible voters who are currently missing. Those people will then be given the opportunity to register. If effective, this will be rolled out more widely across local authorities on a permanent basis.
The promise to speed up individual electoral registration was contained in the government's Coalition Agreement and details were set out today (15 September 2010) by Mr Harper in an oral statement to Parliament. A draft bill will be introduced this Parliamentary session, to be followed by legislation.
Notes to editors
For further media enquiries, please contact Katherine Pateman at the Cabinet Office Press Office on 0207 276 0516. For all Cabinet Office press office contact details, visit the press office page.
Published 15 September 2010