Volunteering boost for charities, libraries and museums
Volunteering boost for charities, libraries and museums for disadvantaged areas.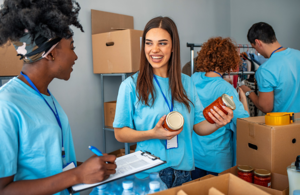 Arts Council England, UK Community Foundations and Historic England funding 167 organisations to create additional volunteering activities across the country
From Halton to Hartlepool, 27 most disadvantaged areas receive £13 million government funding for arts groups, charities and artist-led workshops   
Additional £4.1 million awarded to help entrepreneurs kick start social enterprises and support local communities
More than 15,000 people are being supported into volunteering and given opportunities to build social connections in libraries, museums, arts organisations and charities thanks to government investment.
Up to £30 million is being provided through the government's Know Your Neighbourhood Fund to create volunteering opportunities and support those experiencing or at risk of chronic loneliness. Funding will support volunteers and participants to take part in activities such as talking cafes, skills sharing sessions, arts and crafts groups and environmental conservation. 
Recent research has found that those living in the most deprived areas are more likely to report feeling lonely, as well as being less likely to volunteer. Research has also shown that loneliness is closely linked with mental health and wellbeing, and that certain types of volunteering opportunities can help connect communities and help people develop skills and grow their networks.
Civil Society Minister Stuart Andrew said: 
Loneliness is something anyone can experience, at any time. We know that volunteering can help people connect, as well as improving mental wellbeing and helping people develop new skills. 

This funding will mean those in some of the most disadvantaged areas across the country are able to volunteer in an area that interests them. From arts groups to skills development workshops, there are thousands of ways for people to get involved, meet new people and try new things.
Over £10 million has been allocated by UK Community Foundations (UKCF) to create high quality volunteering opportunities and support people experiencing, or at risk of loneliness in Wolverhampton, South Tyneside, Kingston-Upon-Hull, Blackpool, Stoke-On-Trent, Great Yarmouth, Fenland, County Durham, and Barrow-in-Furness. This will support over 10,000 people with access to opportunities such as befriending services, parent and toddler groups, lunch clubs and gardening activities.  
Nearly £3 million is being distributed on behalf of government by Arts Council England via partners Libraries Connected, Creative Lives and the Association of Independent Museums to create more than 1,000 volunteering opportunities and support more than 4,000 people experiencing, or at risk of, chronic loneliness. Opportunities will be focused in libraries, museums and voluntary arts groups, with activities including 'reading for wellbeing' groups, musical performances and artist-led workshops. 
Historic England has also distributed nearly £500,000 to support programmes being delivered on eleven high streets in Barnsley, Blackpool, Barrow, Burnley, Hull, Middlesbrough, Stalybridge, Wednesbury, Stoke, Great Yarmouth and Ramsgate. 350 volunteers will be supported to take part in cultural activities that help people feel proud of where they live and connected to their local community, such as history-based volunteering workshops and drop-in meeting spaces for those experiencing loneliness. 
Some of the organisations to benefit from the £13 million include:
Rosemary Macdonald, CEO, UK Community Foundations said:  
Community foundations see the impact of services that tackle loneliness on a daily basis. From urban high streets to rural hamlets, local grassroots organisations remain a valued asset at the heart of community life.  

We are excited about what we can learn and share through the Know Your Neighbourhood Fund to increase volunteering in the future in a sustainable way that brings communities closer together." 
The government is also supporting social enterprises with funding of up to £4.1 million via the Social Enterprise Boost Fund. Social enterprises use the majority of their profits to further a social or environmental mission, from community healthcare providers to retailers providing employment opportunities for the homeless. 
Allocated in County Durham, Sandwell, South Tyneside, Sunderland, Thanet and Wolverhampton, the Fund aims to grow the social enterprise sector in disadvantaged areas by supporting organisations in their early stages. Up to £1.45 million will be delivered as grants of up to £10,000 to help kickstart or grow social enterprises, supporting the development of innovative ideas to tackle issues in local areas. 
Alongside this, £2.3 million will be used to accelerate social enterprise activity through business support, training, networking, one-to-one support and peer learning, such as 'Dragon's Den' style pitching opportunities. 
The fund aims to build the evidence on what works to grow social enterprises in disadvantaged areas, and share learning on their unique contribution to local communities and economies.   
The government has also today announced plans to commission further research into loneliness to help develop our understanding of why disabled young people are at greater risk of loneliness, and develop policy that can be implemented to best support them.
Details of Know Your Neighbourhood Fund grantees can be found in the spreadsheet below:
Notes to editors:
Details of Know Your Neighbourhood Fund grantees are attached.
More information on the Know Your Neighbourhood Fund can be found at About the Know Your Neighbourhood Fund. 
More information on the Social Enterprise Boost Fund can be found at Social Enterprise Boost Fund. 
The Know Your Neighbourhood Fund is being distributed within 27 areas identified as being disadvantaged. These are: Barnsley, Barrow-in-Furness, Blackpool, Bolsover, Burnley, Cannock Chase, County Durham, Doncaster, Fenland, Great Yarmouth, Halton, Hartlepool, King's Lynn and West Norfolk, Kingston upon Hull, Knowsley, Middlesbrough, Rochdale, Sandwell, South Tyneside, Stoke-on-Trent, Sunderland, Tameside, Tendring, Thanet, Torridge, Wakefield, and Wolverhampton.
Funding from UKCF will be distributed within nine local authority areas: Barrow-in-Furness, Blackpool, County Durham, Fenland, Great Yarmouth, Kingston-upon-Hull, South Tyneside, Stoke-on-Trent and Wolverhampton. 
The Social Enterprise Boost Fund is being distributed by four local delivery partners in six disadvantaged areas: County Durham (by North East Business & Innovation Centre); Sandwell and Wolverhampton (by a consortium led by the Initiative for Social Entrepreneurs); South Tyneside and Sunderland (by a consortium led by Firstport for Social Entrepreneurs) and Thanet (by Social Enterprise Kent). 
The civil society sector is worth at least  £16 billion to the UK economy. There are 951,000 jobs in the sector, over 50,000 more jobs than in 2019 before the pandemic.
Additional quotes: 
Isobel Hunter MBE, Chief Executive, Libraries Connected said:
Libraries Connected is thrilled to be a partner in Know Your Neighbourhood, supporting the library services that have received funding in the 27 target areas. Public libraries are at the heart of their communities and are uniquely placed to help local people participate in volunteering and connect with others. 

This important initiative will not only see exciting community projects in libraries across the country, it will also build a vital evidence base for scalable and sustainable interventions in the future.
Lisa Ollerhead, Director, Association of Independent Museums said: 
Museums possess a unique power to unite people around captivating exhibits, beloved local landmarks, and inspiring ideas. Our AIM Connected Communities grant programme is dedicated to harnessing these opportunities for the betterment of underserved regions across England, inviting more people to engage with their local museums and form meaningful connections. 

We're delighted to be giving five projects the go-ahead in our first round of awards, covering regions from the North East through the Midlands to the South East.  As well as the grants, we look forward to museums participating in a capacity-building programme to empower and enhance the skills of their dedicated staff and volunteers, while also facilitating partnerships with local organisations. Our ultimate goal is to ensure that the projects funded by these grants have a lasting, positive impact within the museum and resonate throughout the broader community.
Robin Simpson, CEO, Creative Lives said:
Creative Lives is a national charity that celebrates, encourages and champions people expressing themselves creatively in their everyday lives and practising their creativity socially with other people. We are excited to see how our Know Your Neighbourhood Awards will deepen public understanding of how and why being creative with other people can decrease loneliness and increase wellbeing.
Duncan Wilson, Chief Executive, Historic England said: 
What I love about high streets is how they bring people together. Throughout history high streets have been our gathering places; centres of commerce, conversation and community. We've been delighted to help deliver the government's Know Your Neighbourhood funding to a handful of our High Street Heritage Action Zones. 

This crucial funding is supporting projects which are opening up volunteering opportunities, tackling loneliness and connecting people to their high streets and heritage. One of my favourites is the 'Green Roots' project in Wednesbury, where artist Ranbir Kaur has led workshops for older people on the South Asian art of Rangoli pattern making and they've made decorative flowers for green spaces in the High Street. Through innovative approaches like this we can really engage with and improve our high streets, whilst also boosting wellbeing.
Darren Henley Chief Executive, Arts Council England said: 
As more people live and work alone and as we spend more and more time online, it's important that we don't lose the opportunities for in-person connection. We know that reducing loneliness can help people lead independent, happier and healthier lives, for longer. Volunteering can help overcome loneliness, providing individuals with a chance to get together with others in their community and helping them to feel part of wider society. Creativity and culture bring so many opportunities for collaboration and connection, and thanks to the Know Your Neighbourhood Fund, communities big and small across England will benefit.
Published 27 October 2023