Voluntary sector asked for their ideas on 'more for less'
Francis Maude and Nick Hurd have written an open letter to voluntary and social enterprise sectors asking them for ideas to help reduce the deficit.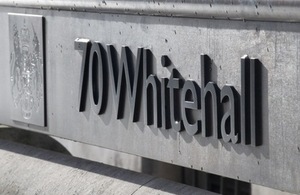 Minister for the Cabinet Office Francis Maude and Minister for Civil Society Nick Hurd have today (29 July 2010) written an open letter to the voluntary, community and social enterprise sectors asking them to contribute their ideas to help reduce the deficit. They are being asked to share ideas about how they can help reduce the deficit directly with the Office for Civil Society.
Tackling the deficit and restoring confidence in the economy is a high priority. Significant savings have been made across all areas of government, but the deficit reduction plan is not just about cuts. It is also about finding better ways of doing things.
Voluntary, community and social enterprise organisations are today being asked to share their innovative ideas of how things can be done more efficiently. Those in the sector have a wealth of experience from delivering services on the frontline, often in the most disadvantaged areas, and can see what is working well and what can be improved.
Ideas and examples from the sector can be posted on the Cabinet Office website or emailed to the Sector Challenge email.
Mr Hurd said:
We know that it is local people and organisations on the ground that often know what needs changing and we want to tap into their knowledge and experience to help us identify ways of doing things better and more efficiently so we can do more for less.

The voluntary, community and social enterprise sector do really important and much valued work on the front line delivering services and that is why they are best placed to identify what the state does well and what could be improved. On my visits to organisations many people working in the sector have already shared with me their ideas and now I'm opening up the challenge to the whole sector.
Also today, as part of the £6.2 billion savings challenge announced by the Treasury in May 2010, the Office for Civil Society has announced that it will be making £11 million savings from its 2010 to 2011 budget.
Mr Hurd said:
We have pledged to be as open and transparent as possible about how we are making savings. We are facing some of the most challenging economic times and every area of government is looking at reducing costs and streamlining their work. The Office for Civil Society is no exception and I am committed to ensuring we are more efficient and effective than ever before and that our resources are focused on where they are needed most.
The £11 million savings will come from:
£2 million which was already unallocated in the Office for Civil Society budget
£5 million reduction in the v match fund which provides for v to match fund private sector investment in youth volunteering projects on a pound for pound basis. The £15 million fund was under spent by £4.4 million in 2009. In 2010 to 2011 they will now have access to up to £10 million for matching purposes
£1.95 million reduction in the £39 million grant to v
£1.3 million in capacity builders funding. Existing grant holders will be unaffected, committed grants will continue to be paid. The majority is being saved by cancellation of any further new awards under the Regional Networks Fund, social enterprise support and remaining elements of the ChangeUp programme
£0.4 million in the Commission for the Compact. The organisation has identified savings which can come from non essential work
other smaller savings, including £0.13 million in payments to the Regional Development Agencies to deliver business support for social enterprises and £0.111 million from social enterprise action research programme which funds individual projects across government addressing policy issues with social enterprise solutions
Notes to editors
Download the open letter to voluntary, community, social enterprise sectors (PDF, 22.5KB).
The deadline for responses is 20 August 2010.
The general public can also contribute ideas at the Spending Challenge website.
For Cabinet Office press office contact details, visit the press office page.
Published 29 July 2010