Visit by FCO Minister of State Jeremy Browne to Indonesia
The new UK government commitment in building strong relations with emerging powers in SE Asia particularly Indonesia that has the largest economy and democracy in the region.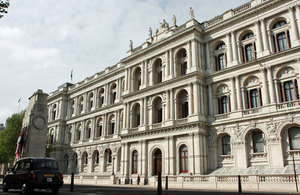 Minister of State Jeremy Browne began his program in Jakarta by conducting meetings with Indonesian ministers. Mr Browne also attended a discussion themed "Countering Extremism" at the Islamic State University Syarif Hidayatullah and took part in a series of "Green Growth - Green Economy" events at the Ambassador's residence.
Meeting with Indonesian Deputy Foreign Minister.
Mr Browne met with Deputy Foreign Minister Triyono Wibowo to discuss more about Indonesia's role in G20, and South East Asia. During the meeting with Deputy Foreign Minister, Mr Browne discussed various subjects including the importance of Indonesia in the region, its vital role in the G20, and ways in which the UK and Indonesia might cooperate on a wide range of foreign policy issues.**
**
UK Minister Jeremy Browne visit Indonesia
Meeting with Indonesian Coordinating Minister of Economy Affair.
Mr Browne continued his official visit to meet with Coordinating Minister of Economy Affairs Mr Hatta Radjasa. During the meeting the two ministers discussed about several issues including extra trade,investment and the importance of applying two ways directions between UK and Indonesia in economy,trade and business sectors. Mr Browne emphasised that the UK is an open country with a competitive tax trade and the UK also welcomes investment from Indonesia. He also underlines the importance of applying free market principle and countries should avoid protectionism. Mr Browne praises Indonesia as the leading growth in the region that has potential to improve its economy and is able to create the right business environment. He also reiterated that the British government is committed to achieve a sustainable economic growth towards an ambitious target and is looking forward to fostering relations in business and economic sectors with Indonesia.
Discussion with UIN Syarif Hidayatullah.
After Friday prayers Mr Browne attended a discussion initiated by British Embassy Jakarta and its partner, Syarif Hidayatullah State Islamic University (UIN). The event featured Mr Noor Huda Ismail, an Indonesian Chevening Scholar who has recently published a book about his pathway out of extremism, and attended by approx 100 students of UIN, representatives of Islamic think tanks, academics and covered by around 20 media reps.
Green Growth Event.
During the speech themed "Towards an open global economy" Mr Browne highlights the commitment of the new UK government in building strong relations with emerging powers in SE Asia particularly Indonesia that has the largest economy and democracy in the region. In the same afternoon Mr Browne took part in the Launch of Indonesian Chamber of Commerce's Green Growth Group with Young CEOs and British Council Young Entrepreneurs. The FCO is funding the creation of the Alliance of Low-carbon Business in Indonesia (ALBI), a new business grouping that will develop recommendations and draft policy on future low carbon options for Indonesia. This work is being driven by eUconnect - a British media production and consulting company who will work with partners in key economic sectors to develop a multimedia toolkit for promoting low carbon business approaches - but will ultimately be led by businesses in Indonesia. The event to launch ALBI was the first opportunity to publicly engage with possible business partners and introduce a variety of stakeholders to the possibilities of the project.
The occasion was followed by an informal gathering where Mr Browne cut the ribbon to mark the launch of the British Embassy new hybrid car "Prius", to show UK's commitment to low carbon innovation in all countries including Indonesia.
Published 26 July 2010