Press release
Vince Cable appoints Ian Livingstone as the Department for Business, Innovation and Skills Creative Industries Champion
Vince Cable appoints Ian Livingstone as the Department for Businesses' Creative Industries Champion.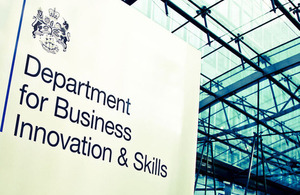 Business Secretary, Vince Cable has today (3 July 2014) appointed entrepreneur, author and influential games industry figure Ian Livingstone as the Department for Businesses' Creative Industries Champion.
In his new position, Ian Livingstone will play a key role in both the promotion and support of the creative sector and its skills base, helping to ensure that business and skills policies are well tailored to the creative industries.
Ian currently sits on a number of industry boards including as a non-executive director of Creative England, Member of the Creative Industries Council, and Adviser to the British Council.
Announcing the appointment at an event to mark the launch of Create UK, an industry led strategy that will see businesses and government work together to maintain the UK's position as a world leader for the creative industries, Business Secretary, Vince Cable said:
With games industry experience spanning 40 years, Ian Livingstone is a widely respected advocate and champion of the creative industries. His experience and expertise within the sector will be integral to his new role and I look forward to working with him.

British creativity is the envy of the world. Our designers, musicians, film, TV and games makers have put the UK on the world map with their creative talent. They have also played a big part in driving our economic recovery. The sector now generates £71 billion in revenue each year and support 1.71 million jobs.

On the day the industry publishes its first industrial strategy, the creative industries have earned their place at the top table of government. That's why I'm ensuring one of its leading lights will work with me to ensure our business support is adequately tailored and that the industry at large knows about our schemes so it can flourish even further. This will help us remain at the forefront of global creativity.
Ian Livingstone, CBE said:
It is a huge honour to take up this position in government. The UK is arguably the most creative nation in the world. The sector punches above its weight and I am looking forward to helping ensure that its economic and cultural contribution to the UK is both recognised and supported.

The commercialisation of creative ideas and building valuable intellectual property is core to the creative industries, and a better understanding of creative businesses and their potential to scale is vital. Promoting a better knowledge around jobs and investment opportunities in the creative industries will create a better climate for creative businesses to flourish.
Notes to editors:
The creative industries generated more than £71 billion gross value added in 2012 – a 9.4% increase between 2011 and 2012 that surpasses the growth of any other UK industry sector.
The sector also supported 1.71 million jobs in the creative industries and created jobs for 890,000 people in other sectors as a key part of wider supply chain and as a driver of business in other sectors.
This week, UKTI launched the Creative Industries International Strategy which aims to double the value of creative industries exports to £31 billion, double the amount of creative services companies that export, and drive increased inward investment to the UK's creative industries – all by 2020.
The strategy sets out a 5-year action plan for government and industry to bring greater prominence to the creative industries at home and abroad. Aims include establishing new international partnerships and alliances, maximising overseas supply chain opportunities in major global projects for creative businesses, and focusing inward investment on key centres of UK creative excellence.
Published 3 July 2014