World news story
US Atlantic hurricane season
Atlantic hurricane season runs 1 June to 30 November and can affect the eastern and southern USA with high winds, heavy rain, and flooding.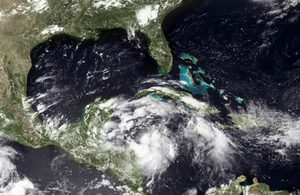 There are a number of things you should do if you are planning to be in the region during hurricane season.
Prepare
know and understand your surroundings especially if you are staying in a hurricane evacuation zone
ensure you have access to supplies of food, water, radios, torches, first aid kit, etc. Our tropical cyclone guidance offers advice on how to avoid a tropical cyclone or cope if threatened by one.
The US Federal Emergency Management Agency's (FEMA) website gives information on preparing for extreme weather conditions and what to do if you are told to evacuate.
Websites such as the Great Hurricane Blowout and those of emergency management authorities in Alabama, Connecticut, Florida, Georgia, Maine, Maryland, Mississippi, New Jersey, New York, North Carolina, Puerto Rico, South Carolina, Texas, the US Virgin Islands, and Virginia, have practical advice on preparing for hurricane season.
Stay alert
pay close attention to weather reports
Monitor local and international weather updates on television and radio and on-line from the World Meteorological Organisation and the US National Hurricane Center.
Follow the Foreign Office and the British Embassy and consulates general in the USA on social media for the latest updates to Foreign Office Travel Advice for the USA.
You can also sign up to receive alerts on Twitter through the Foreign Office Travel Advice alerts service.
Communicate
give family and friends the address and telephone number of where you are staying, and call, text, or email them to let them know your plans if a hurricane or tropical storm is forecast to affect the area you are in
don't forget to let family and friends know you are OK once the storm is over
Keep important numbers handy such as family and friends, airlines, tour operators, travel insurance providers and that of the British embassy and consulates general in the US in case you need further assistance.
Published 1 June 2015