News story
Updated Information Statement on Food Allergy issued by IFST
The Government Chemist contributed to updating an Information Statement on Food Allergy for the Institute of Food Science & Technology, IFST.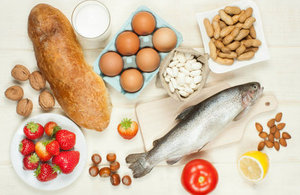 Dr Michael Walker and Dr Hazel Gowland of Allergy Action, and research collaborator of the Government Chemist, refreshed the Information Statement (IS) on Food Allergy, pending a full review. The Information Statement describes the nature of food allergies, outlines legislation that aims to help people with allergies and to emphasises the measures that manufacturers and caterers should take to minimise the problems.
Developed and peer-reviewed through the IFST Scientific Committee, of which Hazel and Michael are members, Information Statements outline the latest scientific developments, as well as regulation and other relevant information, surrounding matters of topical importance within food science and technology into one single document.
Published 16 January 2019