Press release
Update on investigation into Bacillus cereus infections: 12 June 2014
PHE confirms total number of infants being treated at 22.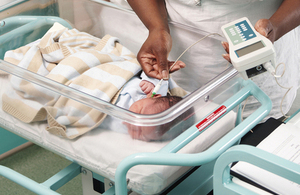 Public Health England (PHE) can report the total number of cases linked to its investigation of blood poisoning (septicaemia) in babies being treated in neonatal intensive care units in England stands at 22 (18 confirmed and 4 possible cases). All babies received the potentially affected intravenous liquid (total parental nutrition, TPN).
Another baby has sadly died but this does not appear to be related to the Bacillus cereus infection. One other death has previously been reported under this investigation.
Professor Mike Catchpole, PHE Incident Director, said:
Investigations to date have suggested the source of the Bacillus cereus infection that has affected outbreak cases was the contamination of intravenous liquid products during a single day of production, which are no longer in circulation. PHE is continuing to work with the Medicines and Healthcare products Regulatory Agency (MHRA) on this investigation and to ensure all possible lessons from this serious incident are identified.
Gerald Heddell, the MHRA's Director of Inspection, Enforcement and Standards, said:
Based on the information we currently have, we believe this is an isolated incident and the appropriate immediate action has been taken at ITH Pharma's facility to avoid a reoccurrence. Therefore we are allowing this critical product to be supplied to patients while our investigation proceeds.

Further inspections are being made as part of our ongoing investigation and it's our priority to find out how this incident happened. We are regularly updating and working closely with the NHS, Public Health England, the Department of Health and other health organisations in our detailed investigation.
Notes to Editors
PHE is unable to disclose information on the Trust in which this death occurred, due to patient confidentiality. We remain in contact with the Trust and, should they make this information available, at this time PHE will support provision of this information to media.

There have been no new infections since 2 June 2014. As we continue to work with clinicians to review information on children in hospital, the number of cases linked to this cluster may fluctuate, as previously unrecognised cases may come to light or investigations may enable us to exclude cases previously thought to be part of the outbreak.
Previous statements
Wednesday 4 June press release
The MHRA press office can be contacted on 020 3080 7651, at press.office@mhra.gsi.gov.uk or on our out-of-hours number 07770 446 189
Infections press office
PHE press office, infections
61 Colindale Avenue
London
NW9 5EQ
Published 12 June 2014
Last updated 12 June 2014
+ show all updates
Removed table due to formatting and display problems.
First published.