Press release
Investigation into 'Bacillus cereus' infections
PHE and the MHRA are investigating 15 cases of blood poisoning (septicaemia) caused by a bacteria known as 'Bacillus cereus'.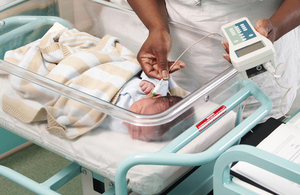 The affected babies were in neonatal intensive care units at a small number of hospitals in England.
Many of the babies were premature and very vulnerable and one baby has sadly died but the others are responding to antibiotic treatment.
Investigations are ongoing but so far indications show that the cases have been strongly linked with a number of batches of a particular form of intravenous liquid called parenteral nutrition which was given to the babies. This contains a variety of nutrients that are delivered directly into the babies' bloodstream when they have problems ingesting food via their mouth. This batch of product is manufactured by ITH Pharma Limited.
Because this type of nutrition is given into the bloodstream of vulnerable babies and adults it is manufactured under strictly controlled aseptic conditions. Investigations with the company have identified an incident that might have caused the contamination. Investigations into this by the MHRA are ongoing and inspectors from the MHRA are visiting the manufacturing plant.
The product has a short shelf life and although it is unlikely that any stock from the day of contamination incident remains (it expired on 2 June 2014). The MHRA has issued a Class 1 drug alert to support the manufacturer's recall of the product this afternoon.
Although the affected product was only issued to a limited number of neonatal units an alert has been issued to all neonatology units across the UK to make them aware of the incident. Doctors have been given advice on what steps they need to take to identify any potential cases of infection and how to dispose of affected stock.
'Bacillus cereus' is a bacteria found widely in the environment in dust, soil and vegetation. Most surfaces would be likely to test positive for the presence of the bacteria. 'Bacillus cereus' produces very hardy spores and in the right conditions these will grow. The spores can produce a toxin which causes illness.
Professor Mike Catchpole, PHE incident director, said:
This is a very unfortunate incident and PHE have been working closely with the MHRA to investigate how these babies could have become infected. Given that the bacteria is widely spread in the environment we are continuing to investigate any other potential sources of infection. However all our investigations to date indicate that the likely source of the infection has been identified. We have acted quickly to investigate this issue alongside the MHRA and we have taken action to ensure that the affected batches and any remaining stock of this medicine is not being used in hospitals.
Adam Burgess, the MHRA's manager of the Defective Medicines Reporting Centre, said:
Patient safety is our top priority and we are working alongside PHE to establish what has happened. We have sent inspectors to the manufacturer's facility to carry out a detailed and rigorous inspection and we have ensured that the potentially affected medicine is recalled.
Ends
Notes to Editors
Neonatal intensive care units with cases:

Chelsea and Westminster NHS Trust (4 cases)
Guy's and St Thomas' NHS Foundation Trust (3 cases)
The Whittington Hospital (1 case)
Brighton and Sussex University Hospitals NHS Trust (3 cases)
CUH Addenbrookes (Cambridge University Hospitals) (2 cases)
Luton and Dunstable University Hospital (2 cases)

More information on 'Bacillus cereus'
Public Health England's mission is to protect and improve the nation's health and to address inequalities through working with national and local government, the NHS, industry and the voluntary and community sector. PHE is an operationally autonomous executive agency of the Department of Health. www.gov.uk/phe Follow us on Twitter @PHE_uk
Infections press office
PHE press office, infections
61 Colindale Avenue
London
NW9 5EQ
The MHRA press office can be contacted on 020 3080 7651, at press.office@mhra.gsi.gov.uk or on our out-of-hours number 07770 446 189.
Published 4 June 2014