News story
Update on flooding - Saturday 26 December
Latest preparations for possible flooding across Lancashire, Yorkshire and Cumbria.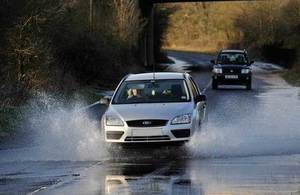 Environment Secretary Elizabeth Truss said:
Torrential rain throughout the night and continuing this morning in Lancashire, Yorkshire and Cumbria has made protecting communities there our primary concern today.

Severe flood warnings were issued early this morning by the Environment Agency, due to the impact of further rain on already saturated ground, in Lancashire. There are also ongoing concerns around possible impacts in Yorkshire which we are monitoring closely.

Overnight local response teams worked to mitigate the expected effects of the coming rain including deploying temporary defences, and we are warning and informing across these areas with the help of police to alert residents to be prepared to evacuate. Rest centres are opening across Lancashire.

This is a very fast moving situation and we have been deploying critical response teams and personnel overnight to where they are most needed.

The Environment Agency, emergency services and military personnel have sent significant resources overnight to Lancashire and Yorkshire to help protect people, homes and businesses as well as maintaining the response in Cumbria.

I chaired a further meeting of the government's COBR committee this morning to assess the impact of the overnight rainfall and to ensure additional support is deployed to where it is be needed today.

Our priority throughout this period continues to be protecting lives, protecting homes and protecting businesses.

I would like to again pay tribute to the tireless work of front line staff over the last month and the Christmas period, and the extraordinary resilience of the people affected, which I have seen first hand.

My thoughts and sympathy continue to be with people flooded out of their homes this Christmas and I can assure them we are doing everything we can to help communities recover from these storms.

Since early December we have made available £60 million in funding to help householders and businesses affected.
Published 26 December 2015