Press release
Unnecessary bureaucracy cut as councils given new powers to redraw map
Local authorities to be given greater control over how their roads appear on maps and satnav systems to help them to better direct traffic.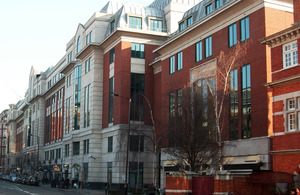 Local authorities are being given greater control over how their roads appear on maps and satnav systems to help them to better direct traffic, Local Transport Minister Norman Baker announced today.
At present, if a council wants to change the classification of one of its roads - for example downgrading an 'A' road to a 'B' road - it has to have this approved by the Department for Transport.
From April next year local councils will be able to set the classification of all the roads under their control, without the need to secure Whitehall approval. This will help them make clear to drivers which roads are most suitable for through-journeys, potentially reducing congestion on local routes and cutting unnecessary bureaucracy both locally and nationally.
Norman Baker said:
This reform will cut out pointless form filling that has been around since the 1960s and lead to more local decision making. It will mean councils can better control traffic in their area by ensuring 'A' roads are placed where they want traffic to run and lower the category of a road in places they want traffic to avoid.

Having consulted on our plans, we have learnt that councils and residents' associations all agree this is the right way to go forward.
The everyday operation of the system will be entirely in the hands of the local council. Central government will only deal with contentious cases via an appeals system where there are serious disagreements about a council's decision.
To ensure that motorists continue to get a consistent road network when they cross from one county to another, a council will need to consult neighbouring authorities before implementing cross-border changes.
Local authorities will be required to send a formal record of any changes to its road network to the DfT but the reporting system will be streamlined, with the current 8 forms replaced by one.
As part of the consultation, the department also took the opportunity to examine whether there might be better ways to link the management of the system with satnav technology. Further work will be carried out and an update provided in the new year.
Notes to editors
The consultation response is available.
At present, the Department for Transport must approve all changes to roads classification (whether a road is an A road, a B road, a minor road or an unclassified road) and all changes to the primary route network (major A roads that are coloured green on most maps).
Under the new approach, local authorities will have responsibility for road classification in their area.
The department will maintain a list of 'primary destinations', but local authorities will decide by which routes they are best connected, working together where necessary.
Local authorities would prefer to see the new system introduced at the start of the next financial year. The new system will be fully introduced in April 2012.
We will provide guidance for authorities later this year to help them in decision making.
The department will remain responsible for the strategic road network (motorways and major A-roads operated by the Highways Agency) in England.
Roads classification and the primary route network are a devolved matter in Scotland, Wales and Northern Ireland.
Related documents
Road network policy - the response
Press enquiries: 020 7944 3108
Out of hours: 020 7944 4292
Public enquiries: 0300 330 3000
Published 6 December 2011