Press release
University of Glasgow agrees new approach for students in debt
Glasgow University will not prevent students from graduating or re-enrolling because of non-tuition fee debts, following CMA intervention.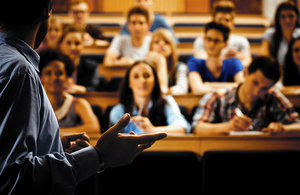 The Competition and Markets Authority (CMA) has welcomed the university's undertaking to change a contractual term that, in the CMA's view, could unfairly prevent students from re-enrolling or graduating if they owe non-tuition fee debts, such as unpaid accommodation or library fees.
The CMA's investigation found evidence that the university had written to students threatening to prevent, and in some cases then blocking, their re-enrolment until the non-tuition fee debts had been paid. This even applied to relatively small debts, which only needed to be above £25.
Gordon Ashworth, Director of Consumer Enforcement, said:
As a result of a change in personal circumstances, students may get into debt. Whilst it's right that universities are able to recover legitimate debts owed to them, they should do so in a way that is fair and proportionate. Students shouldn't be prevented from graduating or re-enrolling for the following year's study because they owe money for non-tuition fee debts, like accommodation or library arrears.

We welcome the University of Glasgow's co-operation and constructive engagement with the CMA. We are also grateful to the Glasgow University Students Representative Council for their assistance with this case. The CMA expects all universities to comply with consumer law by giving students accurate and timely information about their courses, treating them fairly, and enabling them to complain if things go wrong.
The CMA published advice for higher education providers on how to comply with consumer protection law in March 2015, as well as complementary advice on consumer rights for students.
Following that work, the CMA undertook a compliance review and published the results in July 2016. The CMA has secured commitments from five universities, including the University of Glasgow. Further information about the compliance review and the action taken to date against universities, is on the case page.
Notes for editors
The CMA is the UK's primary competition and consumer authority. It is an independent non-ministerial government department with responsibility for carrying out investigations into mergers, markets and the regulated industries and enforcing competition and consumer law. For more information on the CMA see our homepage or follow us on Twitter @CMAgovuk, Flickr and LinkedIn and like our Facebook page.

The CMA's advice to the sector cited the compliance work previously undertaken by the Office of Fair Trading (OFT), in February 2014, on use of academic sanctions for non-tuition fee debts. The relevant pieces of consumer protection legislation considered in this context are the Unfair Terms in Consumer Contracts Regulations 1999 (the UTCCRs), Part 2 of the Consumer Rights Act 2015 which replaces the UTCCRs, which applies to contracts entered into, and relevant notices communicated, on or after 1 October 2015, and the Consumer Protection from Unfair Trading Regulations 2008 (CPRs).

Whilst the University of Glasgow has agreed with the CMA to make changes to its previous terms and practices, it does not consider that its previous terms, student debt policy or past conduct was in breach of consumer protection law.

The final decision on whether or not a term or practice infringes the law rests with the courts and no such finding has been made in this case.

Enquiries should be directed to Simon Belgard (simon.belgard@cma.gsi.gov.uk, 020 3738 6472).
Published 5 December 2016