UN Security Council votes in favour of expanding sanctions on Iran
The UK and 11 other members of the UN Security Council have voted in favour of a resolution expanding the breadth and reach of UN sanctions on Iran.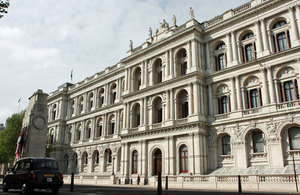 The UK voted in favour of UNSCR 1929, which imposes broad-based sanctions, targeting a wide range of pressure points associated with Iran's nuclear and proliferation activities. These include Iran's nuclear investment abroad, conventional arms and ballistic missiles capable of carrying nuclear weapons.
Today's vote was the sixth UN Security Council Resolution on Iran since 2006 and the fourth imposing new sanctions. There were 2 votes against the resolution from Brazil and Turkey, whilst Lebanon abstained. Sir Mark Lyall-Grant the UK's Ambassador and Permanent Representative to the UN outlined the UK's decision to vote in favour of the resolution in a statement to the council.
The Foreign Secretary, William Hague highlighted the importance of today's resolution.
Foreign Secretary Statement on UNSC 1929
In a full statement this afternoon, he said:
"I welcome the action the United Nations has taken today. The new resolution is an important statement of international resolve to prevent Iranian nuclear proliferation.
It intensifies peaceful and legitimate international pressure on Iran to change course and restore the trust in its intentions that is so badly lacking.
Nothing Iran has done in recent months has shown that it is ready to address international concern that its nuclear programme is not for peaceful purposes. Instead it has continued to renege on commitments, continued to defy the UN Security Council and continued to refuse to discuss its nuclear programme with the E3+3.
Britain and its partners remain ready to meet Iran at any time for meaningful negotiations on the nuclear issue. Our offer remains on the table and we will respond to positive steps by Iran."
Published 9 June 2010