UN Human Rights Council 39: UK Statement on Venezuela
The UK applauded Peru's leadership in establishing Council reporting on the deteriorating human rights situation in Venezuela and urged Venezuela to engage with the Council.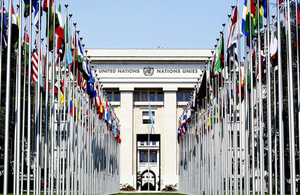 Mr President
I am taking the floor in response to the paragraph vote called by Venezuela on operative paragraph one of draft L1 rev 1.
We urge all members of the Council to vote YES on OP1.
OP1 welcomes the report of the High Commissioner on the situation of human rights in Venezuela.
The fact that Venezuela has called a vote on this paragraph is an attempt to undermine the mandate of the High Commissioner, and her office, and is, regrettably, highly symptomatic, of Venezuela's non-cooperation with this Council and the UN human rights system.
I remind the Council that pursuant to resolution 48/141, the High Commissioner for Human Rights has the mandate to 'to promote and protect the effective enjoyment by all of all civil, cultural, economic, political and social rights", and "to play an active role in removing the current obstacles and in meeting the challenges to the full realization of all human rights and in preventing the continuation of human rights violations throughout the world."
The report that is welcomed in OP1 is entirely in line with this mandate and deserves the full support of this Council.
We note that that Venezuela has sought to raise procedural doubt over the fact that this report was even produced.
It has long been the standard practice of this Council to refer to reports of the High Commissioner and her Office, and there is no procedural grounds for an objection. Since the establishment of the Office of the High Commissioner for Human Rights it has put out countless reports, some of which have been mandated by this Council and its predecessor body, the Commission on Human Rights, but many of which have not been and which have been produced under the High Commissioner's own authority. This is in line with the independence of the High Commissioner, which is something the UK strongly supports.
For these reasons, we urge all members of the Council to support the mandate of the High Commissioner and vote Yes on OP1.
Thank you Mr President
Published 27 September 2018