World news story
UN Human Rights Council 39: UK Statement on Somalia
The UK commended Somalia for its progress made on human rights and promised further support to Somalia, while encouraging others to do so as well.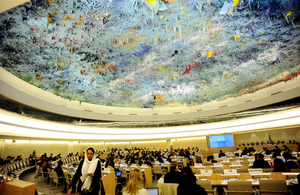 Thank you, Mr President,
The United Kingdom thanks the Independent Expert for his work and strongly supports the extension of his mandate. We welcome the recommendations in his report and emphasise the importance of maintaining progress in delivering the commitments made at the Somalia Partnership Forum and Global Disability Summit.
We welcome the progress observed in the report. We recognise the positive role of the Ministry of Women and Human Rights Development in championing human rights. The constitutional review process, National Reconciliation Forum, security Transition Plan and elections in 2020 present crucial opportunities to embed human rights protections in Somalia's institutions.
But a number of challenges remain. We remain deeply concerned about civilian casualties, including at the hands of terrorists; displaced people, refugees and migrants; children in armed conflict; sexual and gender-based violence; and restrictions on journalists and freedom of expression. A lack of accountability for perpetrators of violations and abuses persists. We urge the Somali authorities to strengthen the rule of law and bring an end to impunity, including by giving urgent consideration to nominations for an independent Human Rights Commission.
Mr President,
We would like to ask the Independent Expert for his assessment of the implementation of human rights protections at the regional level, and for his view on how the international community can support the Federal Government and Federal Member States to ensure protections are extended to all Somalia.
Thank you, Mr President.
Published 26 September 2018