Henry Bellingham visited Africa for the African Union Summit and discussions with the Democratic Republic of Congo, Uganda, Sudan and Kenya.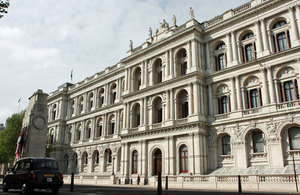 At the start of the visit the Minister went to the Democratic Republic of Congo with International Development Minister Stephen O'Brien. They met with Prime Minister Adolphe Muzito, Vice Prime Minister Lumanu and Congolese ministers to discuss prosperity and aid.
The ministers witnessed first hand the stabilisation work of the United Nations Stabilisation Mission in the country. Rachel Brass, 1st Secretary in the Democratic Republic of Congo, blogged on their visit.
Henry Bellingham then flew to Kampala, Uganda, to meet with President Museveni and attend the 15th African Union Summit. The theme of the summit was maternal, infant and child health and development in Africa. The summit brought together leaders from 53 African states. Whilst in Uganda the minister met with his counterparts from China, Mauritius and Rwanda.
In Sudan Henry Bellingham met with Sudanese officials to discuss the potential trade opportunities between the UK and Sudan. At a news conference in the Sudanese capital Henry Bellingham said:
'One of our top priorities is to increase trade with different countries around the world, particularly in Africa. The trade we have with Sudan at the moment is very good but we feel the scope for that trade can increase.'
Henry Bellingham visited a number of local projects supported by the UK government. This included a local women's project who benefitted from receiving equipment and material for their sewing projects and an aid project where UK aid has enabled 5.3million people in the region to be fed each month.
In Kenya the Minister had bilateral meetings with President Mwai kibaki and Proffesor George Saitoti, Kenya's Minister for Internal Security. He took part in a round-table discussion with Kenyan parliamentarians and met members of the local business community.
Published 2 August 2010