Press release
UK welcomes UN resolution on terrorist kidnap for ransom
Foreign Secretary William Hague welcomes action against ransom payments to terrorists.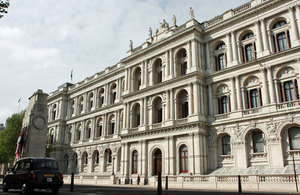 The United Nations Security Council has adopted unanimously its first standalone Resolution tackling terrorist kidnapping for ransom. It calls on all Member States to prevent terrorists from benefiting directly or indirectly from ransom payments and expresses the Council's determination to secure the safe release of hostages without ransom payments or political concessions. For the first time the Council calls on Member States to work with the private sector to respond to terrorist kidnappings without paying ransoms.
Speaking after the Resolution's adoption in New York, The Foreign Secretary said:
I am delighted that the United Nations Security Council has adopted unanimously its first Resolution dedicated solely to tackling terrorist kidnapping for ransom.

Kidnap for ransom has become the most significant issue in tackling terrorist financing and remains a grave threat to the nationals of all countries. In the last three and a half years, we estimate that AQ-affiliated and other Islamist extremist groups have collected at least 105 million US Dollars in ransom payments. The payment of such ransoms enables terrorists to increase recruitment, strengthens their ability to organise and carry out terrorist attacks, and provides an incentive for future kidnaps.

This Resolution makes clear the Security Council's unity and commitment to addressing this ever growing threat and to breaking the vicious cycle of ransom payments strengthening terrorist groups and leading to further kidnapping.
Further information
Follow the Foreign Secretary on twitter @WilliamJHague
Follow the Foreign Office on twitter @foreignoffice
Follow the Foreign Office on facebook and Google+
Published 27 January 2014