Press release
UK welcomes Sri Lankan elections; urges investigation into intimidation
Following Sri Lankan provincial elections, FCO Minister Alistair Burt welcomed progress but urged investigation into reports of intimidation.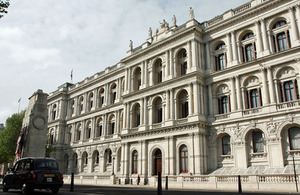 Foreign Office Minister Alistair Burt said:
I welcome the Sri Lankan provincial elections that took place on 21 September. Polls have been described as largely peaceful by Commonwealth and domestic observer missions, with high turnout across all three provinces. This demonstrates the desire of the Sri Lankan people to engage in this democratic process which ensures all provinces now have a council for the first time since the end of the military conflict.
I call on the Sri Lankan government and parties who won provincial seats to work together to contribute meaningfully to effective and inclusive regional governance in Sri Lanka. The lasting reconciliation all Sri Lankans deserve cannot be delivered by these polls alone, but the elections remain an important step in recognising the rights and aspirations of all citizens.
I welcome the access given to international observers and the overall conduct of polling day. However, I note with concern the credible reports of the misuse of state resources for campaigning, incidents of intimidation, and violence in the run-up to elections. I call on the authorities to investigate these serious allegations and ensure that the perpetrators are brought to justice.
Further information
Follow Foreign Office Minister Alistair Burt on twitter: @AlistairBurtFCO.
Follow the Foreign Office on twitter.
Follow the Foreign Office on facebook & google+.
Published 23 September 2013