World news story
UK welcomes international response to Russia's chemical attack on British soil
The Foreign Secretary, Boris Johnson, today welcomed Britain's partners coming together to expel over 100 Russian officials following the Salisbury attack.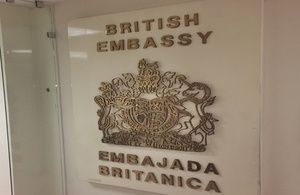 Writing in The Times, the Foreign Secretary welcomed the fact that, to date, more than 20 nations have collectively decided to remove more than 100 Kremlin officials. According to Secretary Johnson this is a "turning point" in the West's attitude towards "reckless" Russian ambitions.
"Never before have so many countries come together to expel Russian diplomats", wrote the Foreign Secretary, and added that "our allies have responded because they share our view of the threat posed by the Kremlin to their values and security".
The mass expulsions are a response to the poisoning of Sergei and Yulia Skripal with a Russian military-grade nerve agent known as "Novichok" on 4th March in Salisbury, England. A police officer who went to their aid was also seriously affected. Another 35 people were forced to seek medical treatment because they were nearby when the nerve agent was released.
After the attack, the British Government gave the Kremlin an opportunity to explain these actions. But this request for information was ignored, leaving the Government with no choice but to conclude that the Russian state was guilty of attempted murder in a British city, using a lethal nerve agent banned by the Chemical Weapons Convention.
According to the Foreign Secretary the use of a banned nerve agent on British soil falls into a wider pattern of President Putin's "reckless behaviour". He quoted that in the past 4 years; the Kremlin has annexed Crimea, ignited the flames of conflict in the Donbas region of Ukraine, hacked the German Bundestag, interfered in elections across the world, sought to hide Assad's use of poison gas and joined his onslaught against the Syrian people.
"The western alliance took decisive action and Britain's partners came together against the Kremlin's reckless ambitions", the Foreign Secretary concluded.
Published 27 March 2018