Press release
UK welcomes Indonesia's lead in protecting forests
The UK Government is helping developing countries to prevent the loss of forests.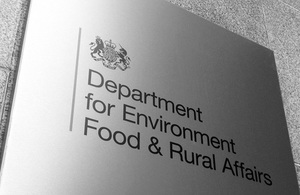 Work to tackle illegal logging has taken a step forward with the news that Indonesia has become the fifth country to sign a voluntary partnership agreement with the EU to protect its forests which will lead to a reduction in greenhouse gas emissions.
Indonesia is leading the way in Asia and has one of the biggest areas of forest in the world. Six countries have now signed agreements with the EU, and another four are in negotiation.
Speaking at the 'Forests Indonesia' conference in Jakarta, Environment Minister Jim Paice said:
"If we're going to stop the decline in biodiversity, we need to protect the forests which house the majority of the world's species. And we can't address climate change properly unless we deal with deforestation. I'm delighted that Indonesia has signed up to this agreement and I hope other countries in Asia will follow their lead."
Indonesia is losing its forests faster than any other country in the world; from 2000-2009, it lost forest equivalent to 300 football pitches an hour and there is now four times as much land given over to palm oil production as there is for orangutan habitat. Orangutans are projected to be extinct within 10-20 years if forest protection is not urgently prioritised.
The Asian elephant, Sumatran tiger, Sumatran rhinoceros and proboscis monkey have also been gravely affected by the expansion of plantations. These species are all on the endangered list.
The UK Government is helping developing countries to prevent the loss of forests as part of wider efforts to help them both adapt to the impacts of climate change whilst continuing their economic development.
The UK will provide £2.9 billion of international climate finance, a significant proportion of which will be for forests in support of REDD+ (Reducing Emissions from Deforestation and Forest Degradation). The UK is currently developing a forests and climate programme that will give support to developing countries on REDD+ and which will provide specific benefits for biodiversity as well as tackling greenhouse gas emissions and reducing global poverty.
Notes
The UK wants to see gross tropical deforestation halved by 2020 and net global deforestation halted by 2030.
The UK Government participation in REDD+ is co-ordinated across DECC, DFID and Defra.At the Copenhagen Conference of Parties on climate change in 2009, the UK Government announced £1.5 billion funding for international climate change projects to 2012. Following the Comprehensive Spending Review, this has been increased and extended to £2.9 billion to 2014/15. The £2.9 billion will include significant new money for forests on top of the existing £300million commitment towards REDD+ made at last year's Copenhagen Climate Conference. The final amounts are still under discussion.

The world's forests are home to over half of the world's plants, 80% of the world's species and support the livelihoods of over one billion people, while deforestation accounts for almost a fifth of global greenhouse gas emissions. Forests have effectively disappeared in 25 countries and another 29 countries have lost more than 90% of their forest cover. Deforestation is leading to the loss of some 13 million hectares (130,000 km2) a year.
Published 26 September 2011