Press release
UK welcomes conclusion of peace talks on Democratic Republic of Congo
FCO Minister for Africa welcomes conclusion of peace talks between Democratic Republic of Congo and rebel group M23.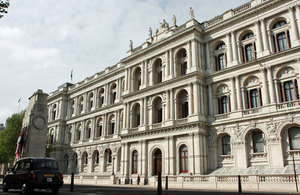 The Kampala Peace Talks have concluded between rebel group M23 and the DRC Government, with declarations signed in Nairobi on 12 December.
Foreign and Commonwealth Office Minister for Africa, Mark Simmonds, said:
Now that talks have concluded, we hope that the focus can move swiftly on to implementation of the Peace, Security and Cooperation Framework, underpinned by a regional political dialogue. This remains the best hope for building sustainable peace and prosperity in eastern DRC.

We commend the engagement of the Ugandan mediators in facilitating this conclusion, as well as the sustained efforts of the Government of the Democratic Republic of Congo, and the Group of Special Envoys for the Great Lakes.

We now look forward to seeing progress on a national programme for Disarmament, Demobilisation and Reintegration in the DRC, as well as progress on reform of the security sector. As we move into 2014, the UK will remain fully engaged in international efforts to secure a long term peace in the Great Lakes region.
Further information
The Kampala talks, mediated by Uganda, started in December 2012. On 5 November 2013, following military defeat by the DRC Armed Forces with support from UN Peacekeeping forces, the M23 armed rebels acknowledged defeat. A breakthrough in the talks was achieved shortly before this time, when the presence of the Special Envoys prompted agreement on the majority of issues under discussion.
The Special Envoys for the Great Lakes are:
Mary Robinson, Special Envoy of the Secretary-General to the Great Lakes Region Russ Feingold, US Special Envoy for the Great Lakes and the DRC Koen Vervaeke, EU Senior Coordinator for the Great Lakes region Martin Kobler, Special Representative of the UN Secretary-General in the DRC Boubacar Diarra, Special Representative of the African Union
The Peace, Security and Cooperation Agreement was signed by 11 regional countries and 4 international organisations in February 2013. It was brokered by the UN, and Mary Robinson has been tasked with overseeing its implementation.
Follow Foreign Office Minister Mark Simmonds on twitter @MarkJSimmonds
Follow the Foreign Office on twitter @foreignoffice
Follow the Foreign Office on facebook and Google+
Published 16 December 2013