Press release
UK Transport Minister: "Britain represents a great opportunity for Japanese firms"
Secretary of State for Transport Chris Grayling meets with Japanese investors in Tokyo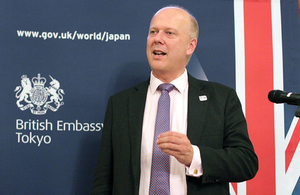 In Japan to attend the G7 Transport Ministers' Summit in Karuizawa, Nagano from September 23-25, Rt Hon Chris Grayling MP, Secretary of State for Transport took time in Tokyo to call on Tokyo Governor Koike and meet with representatives from some of the many Japanese companies investing and doing business in the UK.
Setting the British people's decision to leave the European Union in context, Minister Grayling sought to allay concerns in Japan and talk about the new trade and investment opportunities for Japanese companies operating in the UK.
The following extracts are taken from a speech given to Japanese transport and infrastructure investors at a reception held at the British Embassy Tokyo:
The referendum & UK-Japan relations
The EU referendum outcome was a decision to leave the European Union - not to leave Europe. I believe the UK and the EU each have more to offer the world as independent friends and allies than we do in a strained union. However, we are now looking forward to the future.
Following the referendum, we can have a more global focus and strengthen ties with our very closest partners like Japan. We benefit more from Japanese investment than any other country in the world apart from the US. As recently as July, Sumitomo Corporation signed a deal to invest £180 million in a new wind farm off the Suffolk coast.
A competitive offer
The UK has always been on the side of competition, enterprise and free trade. Our corporation tax is just 20 percent - already the lowest in the G7, and it will fall to 17 percent by 2020. We have the best superfast broadband coverage of any major European economy.
And we are building a world-leading transport system. Even today, we have the second largest ports industry in Europe; the largest air transport system in Europe; and the most improved rail network in the EU. Last year, Britain was the second fastest growing major economy and one of the top 10 most competitive countries.
Infrastructure investment opportunity
We have begun a once-in-a-century upgrade of our transport infrastructure. The Crossrail project is currently Europe's largest construction project. When it's complete in two years' time we will have a new, high capacity railway under London's streets. Next year we start building HS2 – a new high speed rail network linking 8 of 10 of our biggest cities. We're spending £15 billion upgrading our existing roads and building new ones. We have a major programme of urban regeneration in which we welcome investment from abroad.
The private sector is investing billions in our ports and airports. We're investing in new technologies like connected and autonomous vehicles. And soon we will take a decision about new airport capacity in the south east of England. In total, our infrastructure programme to 2020 is worth over £100 billion - and there will be lots more to come in the years that follow. That's why Britain represents a great opportunity for Japanese firms.
To hear more from Secretary of State Grayling's speech, watch the video highlights below:
UK Transport Minister in Japan
Related link:
Published 28 September 2016