News story
UK to host Friends of Yemen meeting in March
Foreign Secretary William Hague looks to meeting in London for progress on political transition in Yemen.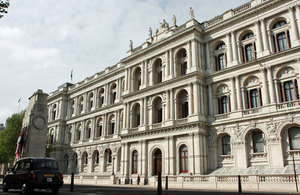 The UK will host the fifth ministerial-level meeting of the Friends of Yemen in London on 7 March, with co-chairs the Kingdom of Saudi Arabia and the Republic of Yemen. Speaking today, Foreign Secretary William Hague said:
"I look forward to welcoming more than 35 countries and organisations to the UK in March for the next Friends of Yemen. Following the successful event in New York in September, where the international community pledged nearly $1.5bn to support Yemen's future, the group is keen to see all $7.9bn pledged in 2012 turned into action and real progress on political transition.
"Yemen stands at a cross-roads. President Hadi is working hard to implement an inclusive National Dialogue Conference and put in place preparations for elections in 2014, but progress is slow. The challenges from spoilers and the dire security situation are ever present distractions. Now is the time for action and I look to the meeting in March in the hope that real progress can be made for the future of all Yemenis and the security of the wider region."
Further information
Published 22 January 2013