News story
UK to host event on protecting girls and women in emergencies
DFID brings together donors, the UN and NGOs to make commitments to ensure girls and women are protected in emergencies.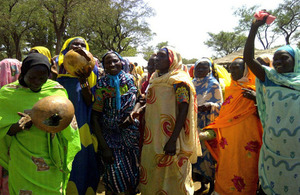 The UK is hosting a high-level event on 13 November in London, seeking international action to protect girls and women from violence and sexual exploitation in emergency situations.
Girls and women in crisis situations – such as flood, famine, and conflict – face much greater risk of abuse, sexual exploitation, violence, force marriage, illness and death because of the lack of protection and provision for their needs. Intervention is often not prioritised in the initial humanitarian response as their situation is not considered life-threatening.
The UK Government believes that the prevention and response to violence against girls and women in emergencies is a life-saving action and should be prioritised from the outset, alongside other life-saving interventions.
On the 13 November, the Department for International Development will bring together donors, the UN and international NGOs to make commitments to ensure action is taken to stop violence and the threat of violence to girls and women during a crisis, and meet the needs of survivors of violence.
Published 4 November 2013