UK to help migrants home to relieve pressure at Libya border
Britain will support additional emergency evacuation flights for people who have fled to the Libya-Tunisia border, in light of concerns that numbers reaching the border camp look set to keep growing.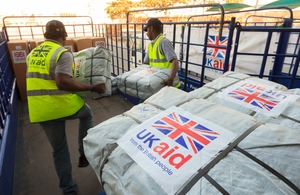 The new flights will be delivered through the International Organisation for Migration (IOM), and will allow 6,000 poor migrant workers - predominantly from Bangladesh, but also Vietnamese, Ghanaians, Sudanese and Nigerians - to return to their home countries.
The announcement follows previous flights earlier this month which successfully evacuated 6,195 Egyptians and 521 Bangladeshis on a total of 35 flights.
Andrew Mitchell, International Development Secretary, said:
"We have been clear from the start that so far this is a logistical challenge - but one where there was a real risk of things getting much worse very quickly. Our fast action on a first wave of emergency flights helped to stop numbers building in the camp at an unmanageable rate, with the increased risk of disease that would bring.
"But it's clear that more assistance is now needed. That's why we're providing additional flights that will effectively double the number of people who will now be able to get back to their families while also relieving pressure at the border camp.
"And that's why it's vital that other donor countries continue to support these efforts and don't take their eye off the ball now."
Published 18 March 2011