UK to double exports to Brazil to £4 billion by 2015
Deputy Prime Minister Nick Clegg today announced the UK's commitment to doubling exports to Brazil to £4 billion by 2015.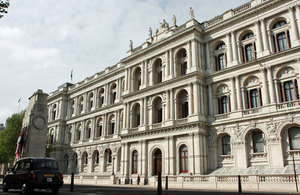 The Deputy Prime Minister revealed the trade goal on the first day of a two-day trade visit to Brazil. The high level Ministerial delegation includes the Trade and Investment Minister Lord Green, the Culture Secretary Jeremy Hunt, Foreign Office Minister, Jeremy Browne, and Universities and Science Minister David Willetts. A delegation of 23 leading British Businesses, including companies from the low carbon, science and innovation, and financial services sectors are also participating in the visit.
Nick Clegg said:
"The UK Government is committed to further strengthening our trade and investment links with Brazil. As the London 2012 Olympic Games approaches, our trade ties will only grow closer as Brazil begins to focus on hosting the World Cup in 2014 and the Olympics in 2016.
"The UK is on of the easiest places in the world to invest and do business and we are committed to making it ever better. As Brazil's is set to be the fifth largest economy in the world by 2016, UK companies, with the help of UK Trade & Investment, should seize on every opportunity to prosper in Brazil."
In September 2010, Business Secretary Vince Cable led a business delegation to Brazil. In the last year, UK trade with the Latin American region has increased by 30 per cent - at the same time British exports to Brazil increased by 29 per cent.
Lord Green said:
"Brazil is a natural partner for the UK on global issues such as climate change and security; this is why we are committed to doubling exports with Brazil by 2015. UK Trade & Investment are committed to helping British Companies invest in the Brazilian economy. In the last three years, for example, the number of British companies approaching UK Trade & Investment for help in the Brazilian market has increased by 500 per cent.
"This is a healthy sign that British business will flourish in Brazil over the coming years, and as Trade and Investment Minister I will do all I can to help UK companies win in this exciting market."
Factfile:
Brazil is the world's fifth biggest consumer market and has the best science base outside the G8.
Brazil is the UK's largest trading partner in Latin America.
It is the 7th largest economy in the world and is expected to be the 5th by 2016.
In 2010, Brazil's economy is expected to have grown by 7.6 per cent.
Four hundred of the world's 500 biggest companies operate in Brazil.
The UK exported £2.1billion to Brazil in 2009-10.
Bilateral trade in goods and services between the UK and Brazil was £5.2billion in 2009.
UK companies that have significant investments in Brazil include: BG Group, Rio Tinto, Shell, BP, Wellstream, JCB, Rexam, De La Rue, GSK, Bunzl, Experian, ENRC, GKN, Rolls Royce and AstraZeneca.
Brazil is a significant investor in London. In 2009, Banco de Brasil, the Brazilian Development Bank (BNDES) and BMF&Bovespa (Sao Paulo stock exchange) opened offices in the London.
Following Petrobras capitalisation in September 2010 BM&FBOVESPA became the world's 2nd largest stock exchange after Hong Kong.
50 million Brazilians will join the middle class between 2000 and 2015.
Media contacts: For more information contact Clive Bull at UK Trade & Investment Press Office on 020 7215 8483 or email clive.bull@UKTI.gsi.gov.uk
Published 21 June 2011