News story
UK support to help thousands more victims of Cyclone Pam
Further UK funds allocated to support organisations working in Vanuatu.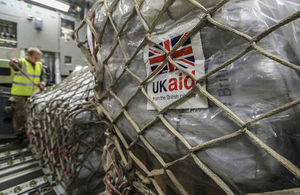 Britain's response to Cyclone Pam is helping to ensure thousands of people across the region get the urgent help they need.
UNICEF will receive the final £500,000 allocation from the UK's £2 million emergency response to Vanuatu, International Development Secretary Justine Greening announced today.
So far Britain's response also includes the deployment of a Royal Air Force C-17 plane which transported vital UK aid supplies to Vanuatu and helped deliver further emergency relief from other partners as part of the international relief effort.
The C-17 undertook a total of four round trip journeys between Australia and Vanuatu, carrying shelter kits and solar lanterns from the UK; vehicles and logistical equipment from Australia; and relief supplies on behalf of World Vision, Oxfam and the Red Cross.
The £2 million committed by Britain has been split between the Red Cross, UNICEF and five trusted partners from our Rapid Response Facility (RRF). The latest funding for UNICEF will provide safe drinking water and reduce the risk of infection from poor hygiene for up to 35,000 vulnerable people. They will work closely with partners from the RRF to co-ordinate relief efforts and ensure people get access to the help they need.
Justine Greening said:
The UK acted quickly to get supplies and experts into the region. The Royal Air Force helped deliver lifesaving emergency supplies and we provided rapid funding to key NGOs helping those in need, especially vulnerable women and children.

Alongside our Commonwealth partners in Australia and New Zealand, Britain has played a key role in supporting the Government of Vanuatu to respond to this emergency.
Published 26 March 2015