UK support to harness natural resource wealth in Afghanistan
The Prime Minister sets out details of new UK support at Afghanistan Mining, Oil and Gas Investor Forum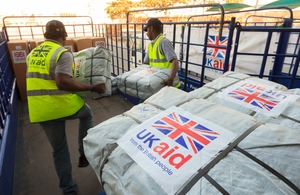 The UK will provide new support to help Afghanistan attract international investors to develop its estimated US$1 trillion-plus natural resources, including copper, gold, oil and gas.
Prime Minister David Cameron announced last night at The Afghanistan Mining, Oil and Gas Investor Forum, held at No. 10 Downing Street, which showcased Afghanistan's natural resource potential to global investors.
The Prime Minister set out details of new UK support to Afghanistan's Minister of Mines, Wahidullah Shahrani, along with over 100 representatives from the extractives, business, diplomatic and academic sectors.
Afghanistan's mineral and hydrocarbon resources will be crucial to the development of the country's economy, which in turn will help to create jobs, reduce aid dependence, and secure a prosperous future for the Afghan people.
The new support includes:
A new £10 million DFID programme over the next three years, to support the Ministry of Mines' work to negotiate, let, manage and monitor contracts, appoint experts to key posts and develop the mineral and hydrocarbon sector; a UKTI dedicated expert, based in Dubai, who will play a key role in supporting investment opportunities in Afghanistan by UK listed companies or those based in or otherwise linked to the UK; and the continued support of an International Investment Adviser who is currently helping Afghanistan's Ministry of Mines develop international business relationships and market resources. Speaking at the Forum, Prime Minister David Cameron said: "The real long-term answer for Afghanistan is prosperity and growth, jobs and investment and wealth. The scale of the opportunity in terms of the extractive industries is absolutely immense. This is an enormous opportunity which, if it can be got right, can be an extraordinary blessing and genuinely transformative.
"In Afghanistan, we are on the brink of getting this right, of having far more transparency, far more honesty in how we deal with the extractive industries. It is a theme of my G8 presidency this year to make sure that we push that agenda as far and as fast as we can."
His Excellency Wahidullah Shahrani, Afghanistan's Minister of Mines said:
"Afghanistan is a vast mineral rich country but one that is essentially under-explored and we are committed to developing our resources for the mutual benefit of the people of Afghanistan and quality resource companies prepared to meet the challenge. Developing Afghanistan's considerable untapped natural resources is a task of the utmost importance. This work will continue to play a vital part in the overall recovery of our country for many years to come.
"Natural resource development is a key strand in Afghanistan's return to prosperity. As such we are offering a unique opportunity, not only to enjoy an attractive return on investment, but also to play an important part in rebuilding our economy and rebuilding the quality of life of our people."
Published 7 March 2013