Press release
UK steps up support for Iraqi victims of ISIL
International Development Minister Desmond Swayne announces £20 million in life-saving new UK aid funding during visit to Iraq.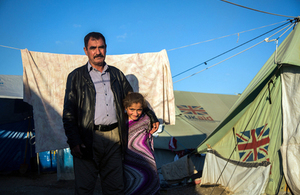 The UK will provide new life-saving support to tens of thousands of Iraqis forced to flee their homes by the brutal rise of ISIL, International Development Minister Desmond Swayne announced today.
Speaking during a visit to Iraq, Mr Swayne set out how £20 million in new funding from the UK would provide medical care, clean water and improved sanitation, shelter, cash support and other essentials to displaced Iraqis. He also warned that the international community should not forget Iraq when responding to the wider instability affecting neighbouring Syria.
More than 8 million people require humanitarian assistance inside Iraq, with 3.2 million Iraqis internally displaced by ongoing conflict - an increase of 1.5 million people in a year. With reports of cholera inside Iraq, provision of clean drinking water and improved sanitation is particularly important to help prevent a wider outbreak.
Desmond Swayne said:
We cannot separate out what is happening in Iraq from the instability gripping Syria and the wider region. The obscenities committed by ISIL show no respect for borders, just as they show no respect for creed or gender.

These terrorists torture and kill Muslims, Yazidis and Christians alike and enslave and brutalise girls and women - in direct violation of the teachings of the religion they purport to represent.

A year ago, the eyes of the world were fixed on the plight of thousands of people trapped on Mount Sinjar. A concerted, urgent international effort meant the difference between life and death for them. But as the number of displaced people in Iraq continues to grow daily, the world's gaze appears to have wandered.

The UN's latest appeal is seriously underfunded and we do not want to see more Iraqis being forced to move because they cannot get the help they need where they are. Donors must step up to meet the shortfall now, to prevent Iraq's problems spilling over its borders.
Mr Swayne was in Iraq to meet government, UN and NGO representatives and to visit camps to understand the challenges displaced Iraqis are facing and how UK aid is helping. The new funding from the UK will go to the humanitarian community, through the UN and other trusted partners operating inside Iraq and is expected to deliver:
cash assistance for over 50,000 vulnerable Internally Displaced Persons (IDPs) so that they can pay for the things they need most, including food, rent and clothes
food and essential household items such as kitchen kits to over 50,000 IDPs
access to clean water for over 80,000 IDPs
life-saving assistance for some of the most vulnerable groups in conflict-affected parts of Iraq through the Iraq Humanitarian Pooled Fund
Notes to editors
The Department for International Development (DFID) is leading the UK's humanitarian response to the crisis created by ISIL in Iraq and Syria. Including the new funding announced today, the UK's total assistance to Iraq since June 2014 now stands at £79.5 million. 2 In the summer of 2014, DFID responded to the rapidly growing number of Iraqis fleeing their homes by allocating £23 million in emergency humanitarian assistance. These funds have provided food, shelter, water, sanitation and medical care, to thousands of vulnerable displaced families across Iraq.
In December 2014, as winter approached and temperatures dropped below zero, DFID continued its support with an extra £16.5 million to provide essential aid to tens of thousands of families.
This includes delivering blankets, heating stoves and other essential winter supplies to 14,000 vulnerable displaced families; helping 16,000 families buy warm winter clothing; ensuring 4,500 families are sheltered from winter conditions and providing emergency health support and increased access to safe water for thousands of vulnerable Iraqis.
In June, the UK committed a further £20 million to provide tens of thousands of the most vulnerable Iraqis, including women and girls, with access to water, medicine, and food as well as cash assistance to buy essential supplies. The new support was announced as the UN launched its revised humanitarian appeal for Iraq.
More widely, UK support is helping to build stability in Iraq, supporting diplomatic and military efforts to defeat ISIL, and contributing to a new UN Development Programme fund to support stabilisation in Iraq.
General media queries
Follow the DFID Media office on Twitter - @DFID_Press
Published 29 September 2015